Miley Cyrus looks gorgeous as the cover star for the December issue of Cosmopolitan where she describes herself as "loud, funny and not typically beautiful."
The 20-year-old singer-actress smoulders in sequins and a statement red lip for the magazine's brand new issue, which promises its interview with the superstar will change our minds about her.
Miley tells the iconic mag: "I'm a feminist in the way that I'm really empowering to women… I'm loud and funny and not typically beautiful. When do I feel at my sexiest? After I've eaten something really healthy and done Pilates, and I'm wearing tight leggings. When I'm in gym clothes I actually feel sexy and healthy, so sometimes I'll stay in them all day!"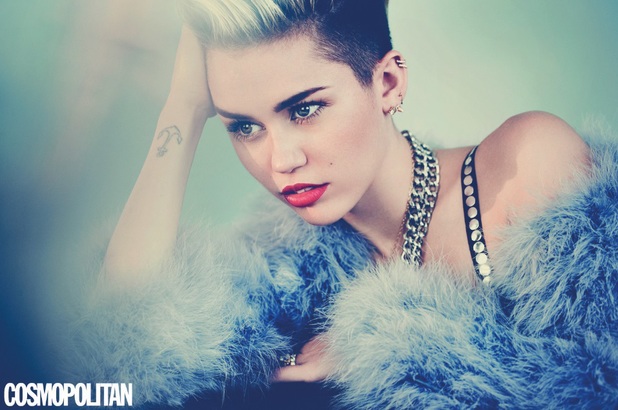 The 'We Can't Stop' singer, however, ditched her comfy gym clothes (and nude latex bikini!) for the sizzling photoshoot which embraces her trademark punk rock edge with a splash of vintage sophistication.
One of the most interesting things to come out of her wide-ranging interview is the fact she's got a take it or leave it attitude to fame. While millions of young women around the world dream of red carpets, glitz, glamour and luxury, Miley tells the magazine she'd be perfectly happy enjoying a successful music career without the trappings of fame.
Miley rose to stardom as a child playing a wholesome student moonlighting as a popstar on Disney's
Hannah Montana
before reinventing herself as a glamorous, edgy singer - and it's that reinvention that has generated daily interest around the globe.
"The biggest misconception about me is that I like the media attention," she says. "I wish I could be who I am without the fame. If everyone would still buy my records and if everything would go to No.1 in 30 seconds or whatever… that'd be great."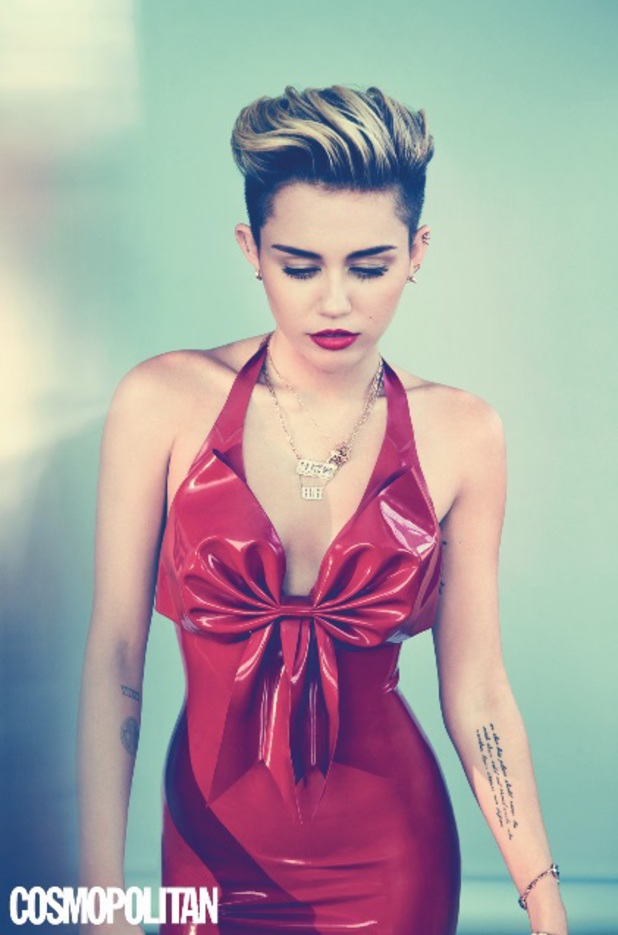 "I live without any regrets – you can't change anything, so I don't think about it," she adds. "But would I ever want a 'normal' life? Yeah, there are definitely times when I wake up and wish I could go out without being photographed. I don't care if people recognise me and say 'hey', but I don't want to be stopped. I want to just walk around and see new cities."
Miley, who just released new album
Bangerz
, also chats about her experience of growing up in the spotlight and how - contrary to what people might think - it's actually kept her grounded.
"I've always been around fame," she explains. "I think that's what's kept me grounded. I was a kid when I started – I turned 13 on the
Hannah Montana
set – and maybe that's affected my attitude; if it happened now, you'd overthink it.
"A lot of [famous] people get what I call 'new money syndrome' – where they didn't grow up with money, and they're so scared of losing it that they become obsessed. It's like an addiction – and once you get a taste for it… But that's never happened for me."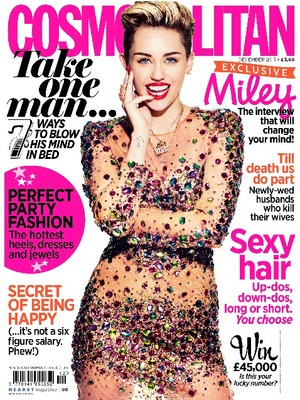 Miley also credits her close family unit - including godmother Dolly Parton - for helping her maintain a level head.
"My parents have always been laid-back," she said. "They'd prefer us to be good people, to have good hearts and be honest with them, than pretend to be someone we're not. I've never had to hide myself... Dolly Parton's my godmother. She's taught me a lot about how you treat people. She always says hi to the person on the bottom of the call sheet. I love that."
As a young, successful star living in Hollywood you'd think Miley would be out on the tiles every night living it up. Surprisingly, she tells the magazine she prefers a night in with her closest confidantes.
"I'm a homebody and actually not as hyper or as sociable as I seem. I have a small group of five close friends who all pretty much work for me; everyone else is just an acquaintance."
For more exclusive Miley content, please go to www.cosmopolitan.co.uk/miley
.
The full interview appears in the December issue of Cosmopolitan, on sale 7th November. Also available in digital edition on Apple Newsstand
.
Check out Miley's hair transformation over the years in our gallery below:
Copyright: Rex Features Gregory Pace / BEI