It belongs to one of Disney's most popular childhood films, but Robbie Williams and Olly Murs have managed to put a Swing twist on The Jungle Book's signature theme song.
Robbie and Olly have joined forces to sing 'I Wan'na Be Like You', which is the energetic, jazz-esque song performed by King Louie of the Apes in the animation.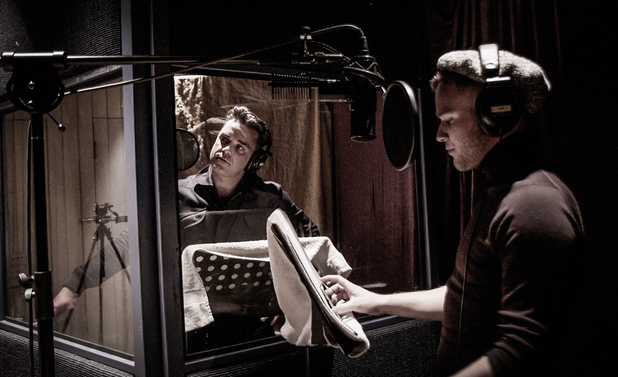 The song, which is described as a "feel-good duet", is
taken from Robbie's upcoming album, Swings Both Ways.
Behind-the-scenes video footage posted to YouTube this week, shows Robbie and Olly in the recording studio as they lay down their initial versus, and 'I Wan'na Be Like You' appears to hold a special place in the hearts of both popstars.
For Robbie,
The Jungle Book
was the first movie he ever went to see at the cinema. But for Olly, it marked the beginning of his
X Factor
journey, as sang the song when he first auditioned for the show in 2007. Unfortunately, he was rejected on that occasion, but two years later he sailed through!
Writing on his blog, Robbie said: "I had no idea, until Olly came in to sing this with me, that he first auditioned for
The X Factor
with 'I Wan'na Be Like You' and he didn't get through.
"Not that long later he's in the studio recording it with me. That's a lovely side story."
Olly, who catapulted to fame after finishing in second place on
The X Factor
in 2009, supported Robbie on his 'Take The Crown' stadium tour this summer and said he "absolutely loved" working on the track.
"After touring Europe with him [Robbie] this year it seemed only right that we record something together, and 'I Wan'na Be Like You' is such a classic sing-a-long tune," said Olly. "It's always brilliant when you get to work with your mates!"
What do you think? Tell us below, as the best comment from across the website each week wins £50.