Jessie J is always showing off her flat stomach in cropped tops and she maintains slim figure even though she snacks on deep fried Mars bars!
The 25-year-old songstress visited Glasgow earlier this week as part of her 'Alive' tour and couldn't resist tucking into a local delicacy while there.
She admitted to her fans that she'd been munching away on the popular deep fried chocolate bars in celebration of her latest tour date in the Scottish city, where the strange fried snacks were invented.
Jessie posted a photo of the bars on Instagram, along with the caption: "Glasgow! I am celebrating tonight's show thinking of you all eating way too many deep fried Mars bars!"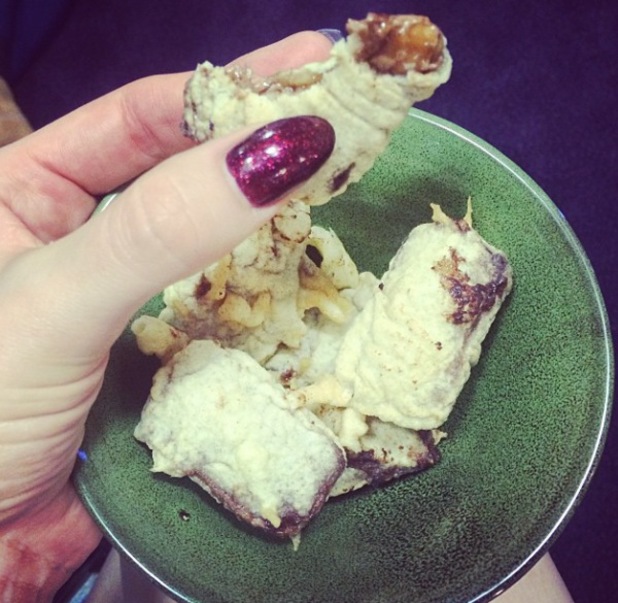 However, after indulging in the naughty treats, Jessie was straight back to working on her trim figure, as she swiftly hit the gym for a gruelling workout.
Proving her commitment to keeping fit and staying in shape, the singer uploaded a couple of videos of herself doing squats and lunges and lifting weights.
The short Instagram video clips show Jessie wearing no make-up and kitted out in a colourful sports top, a pair of black leggings and a grey and black hooded cardigan.
She wrote beside one of the clips: "Instead of complaining you wanna do something about the things you want to look or feel different #justdoit #nike #ntc"
Well, it's one way to burn off those Mars bars!
And it seems Jessie also uses the gym to practise for her concerts too, as she can be heard singing while pumping iron. Talk about multi-tasking!
Have you ever tried a deep fried Mars bar? Let us know below.