Just six weeks ago, Danielle Lloyd gave birth to her and footballer husband Jamie's third son, George, and the former model admits that sleepless nights with a baby – plus long days entertaining two active kids – is taking its toll.
"George isn't sleeping very well and I'm so tired," Danielle, 29, told us at the launch of Disney On Ice's Dare To Dream tour in London last week.
"All my energy goes into looking after the kids and sometimes I can't concentrate and end up doing silly things, like leaving my mobile phone in weird places like the fridge.
"Having three little ones is exhausting and stressful, but it's also the best thing in the world."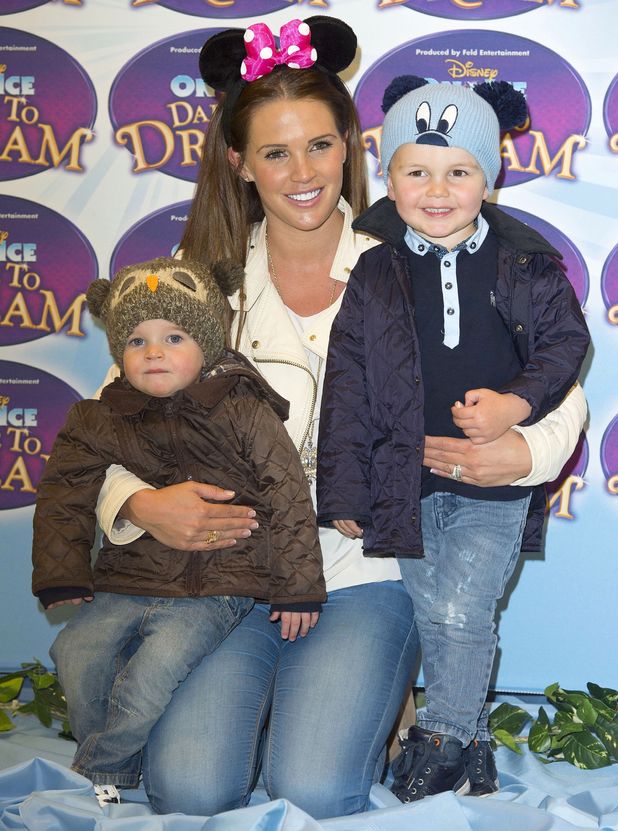 George, born in August,
is a little brother to Archie, five, and three-year-old Harry, who are already protective of their younger sibling.
"It's so cute, the boys are always kissing and hugging him, they want to hold him all the time," she said.
"Archie is protective because he's the eldest. At first, Harry thought he was a dog and used to pull him by his legs and pat him on his head!
"He was a bit rough so we had to explain he was a baby, just like him, but a tiny bit smaller, and that he couldn't do that. Now he's much better."
Looking svelte in a pair of skinny jeans and pretty top, Danielle admitted there was a positive to having children so close in age: "I've literally done nothing diet or exercise-wise, I've just lost weight by running around after the kids.
"Luckily, Harry's a whirlwind, he does not keep still so it's mainly from chasing him."
However, Danielle's mum, Jackie, who was on hand to help her with the kids, said she had little sympathy for her daughter – and made a confession of her own.
"There's only a year between Danielle and her brother Matthew, so when Danielle says she can't cope, I say, 'That's how I felt with you!'" laughed Jackie.
"She was so naughty that once, she dragged Matthew onto a changing mat, hid him in the cupboard and painted him blue!"
More celebrities who welcomed babies in 2013!
Copyright: Love & Lust London