After an impressive performance on the first X Factor live shows this week, Rough Copy have sailed through to the next stage of the competition. But their current success hasn't come without its fair share of struggle.
The trio auditioned for
The X Factor
last year, only to be turned away when founding member Kazeem Ajobe had issues with his visa and was unable to travel overseas for the judges' house stage of the contest.
His visa troubles then prevented him from joining bandmates Joey Thomas and Sterling Ramsey at the judges houses in New York this year, where they auditioned in front of Gary Barlow.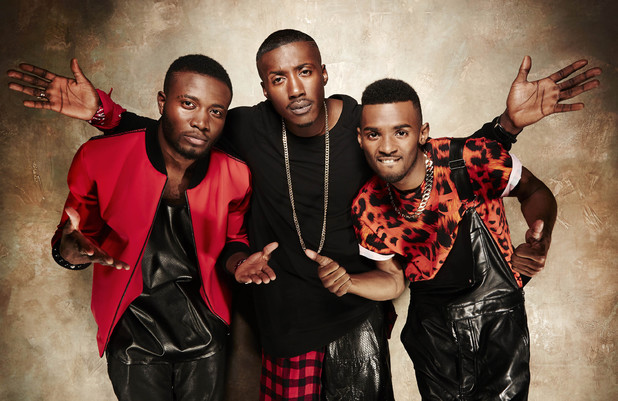 However, the two singers gave such a stellar performance without Kaz that Gary chose to put them through to the live shows, later allowing them to bring back their third group member to compete.
And it's a good job he did too, as the boys wowed viewers on Saturday night (12 October) with their rendition of Phil Collins' 'In The Air Tonight'.
Reveal
caught up with
Rough Copy
to find out about the obstacles they've faced over the years, whether they've got girlfriends and where exactly their unique name came from.
Last year you weren't allowed to continue on the show after Kaz's problems with his visa. What was different this year?
Kaz: "I thought ahead and told producers that I would take myself out of the equation so that the boys could continue and
X Factor
has been very supportive to us in this situation."
Sterling: "I think also we've proven that we've come back stronger and better this year. What has kept us in this journey is fate and we just had to pray and trust in ourselves."
Are you worried about how the public will perceive you because of your previous brush with the law?
Kaz: "I do take responsibility for what I did, which is important. There was an affray situation and I had community service for that. I grinded it out, 250 hours, waking up early in the morning to make sure I was there on time, while still juggling our group commitments and having a three-year-old son and being in a relationship.
"I've come a long way from four or five years ago. That's why I work with youths now, to make sure they understand that they can come out the other side and be a success."
Joey: "With me, I was around bad people growing up but I just found a way to stay out of the mix, or I was lucky enough to not be in the mix. I come from Croydon and there's going to be a stereotype. People hear that we are three black guys from Croydon and already they're going to think 'troublemaker'.
"At the end of the day, it's about who you are and what you do. No matter what happens around you, you've got to stay focused. That's how I've always been. Whatever the other boys go through though, I go through it too because we're brothers."
Do you feel you have more to prove than everyone else because of these previous issues and the fact you were on the show last year?
Joey: "I feel like the reason why we want to push ourselves so much is because
X Factor
has given us a second chance. They've put their neck on the line to get Kaz back in the group and we know that wasn't easy for them to do. It probably wouldn't have happened for a lot of other people, but because of how much we struggled, how long we've been together and how much we want it, it's almost like every time we sing they have to believe us."
Sterling: "We had to come back and start again. Our first audition was terrible for a band that has been together for five years. We got shut down! We had to grind to come back into the competition and then we found out who the other finalists were and realised there are some really good contestants on here, so we have to work hard. This year is very strong."
Joey: "The struggle most definitely makes us want it more and makes us appreciate where we are. When we think back to how hard it was to get up early and go to work, then get back and go to a show until 4am and then do it all again the next day, I'm not saying
X Factor
is easier, but we're so happy to have one thing to focus on."
How much time do you have with Gary?
Kaz: "Gary has been very supportive. We have our sessions with him on a Monday and he makes sure we are comfortable with what we are singing. He doesn't force us to sing anything we don't want to. He's very hands on. Anytime he has free he makes sure to come and help us."
Joey: "I love his input, because he's just honest all the time."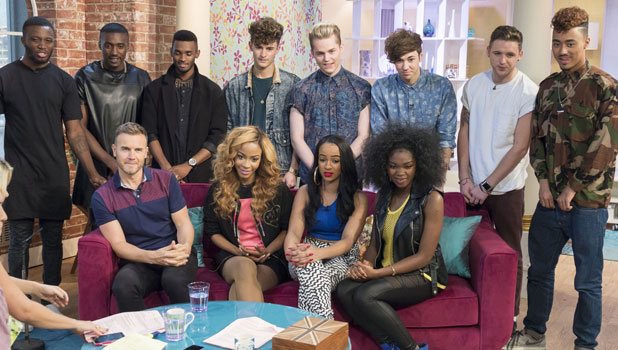 Do you have girlfriends?
Kaz: "Yeah, I've been in an eight-year relationship and I have a son, but I like that whole mystery of 'I like Kaz, but I can't have him'. I'm hopefully going to be married soon. I haven't proposed, it's all in due time.
"My girlfriend has been very supportive and hands on throughout our career – she's our personal stylist. I owe my life to her in a sense because she told me to put the band together. She's my support system, like my spine."
Sterling: "I'm single and ready to mingle, but I'm focusing on my career first. Let me get the Lamborghini first."
Joey: "Everyone in the house is too young for us to have a romance with. We've been waiting so long to get here that girls are the last things on our minds to be honest."
Where did the name 'Rough Copy' come from?
Sterling: "I was at college and we were trying to find a new name and I was at the photocopier and someone just said 'rough copy' and I liked it. So I told the boys. But we knew we needed to have a real meaning behind it."
Kaz: "Our personalities, we're always striving for better. We are always going back to our first draft and our 'rough copy'. We are always bettering ourselves, even Beyoncé does that. And our struggle does show that."
Are you a fan of Rough Copy? Let us know, as the best comment each week wins £50!
Check out all of the X Factor finalists in our gallery below.
Copyright: Nicky Johnston/Thames/Syco