Kim Kardashian and baby North were out in force yesterday to support Kanye West's hotly anticipated Jimmy Kimmel Live! appearance.
Yesterday (9 October), we told how
Kanye was due to appear on Jimmy's American chat show despite having a previous feud
with him on Twitter.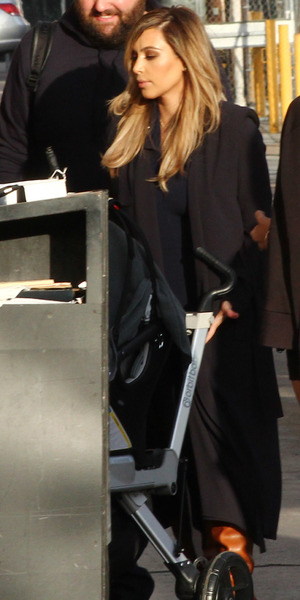 The feud began last month (27 September) after Jimmy poked fun at Kanye's interview with Radio 1's Zane Lowe, which Kanye described as the "first piece of honest media" he's done in "years", adding that he is a "creative genius". Jimmy hired two child actors to recreate the British chat in a comedy skit.
Last night, Jimmy told Kanye that he had always liked him, but added: "I don't know if you know this, but a lot of people think you're a jerk.
"When you said you think you're a genius, I think that upsets people. But the truth is a lot of people think they're geniuses, but nobody says it because it's weird to say it. But it is most certainly more honest to say, 'I am a genius'."
Kanye, meanwhile, told Jimmy: "When people hear my music they have a good time, and I should be respected as such when I walk down the street.
"Don't ask me a question about something you saw on the tabloids. Don't try to antagonise me, because it's not safe for you in this zoo, you know? Never think that I'm not from Chicago for one second."
This Jimmy Kimmel interview is the truth!

— Kim Kardashian (@KimKardashian) October 10, 2013
The pair confirmed that their row was not a publicity stunt, with Kanye adding: "Jimmy does his thing, I do my thing, and at some point egos can flare up, and we kind of took it back to high school. Thank you for the platform."
During the chat, Kim tweeted: "This Jimmy Kimmel interview is the truth!"
Phew, we're glad the air has been cleared!