Vanessa Hudgens has opened up about her "protective" best friend Ashley Tisdale, her dislike of partying and how a glass of wine can help a tough situation.
The 24-year-old brunette beauty looks gorgeous as the cover star of autumn's Cosmo On Campus magazine, available now.
We fell a little bit in love with Vanessa when she rose to fame as Gabriella in the
High School Musical
trilogy, and although she's moved on from the child friendly movies now, she's taken something very important away from me: a close friendship with co-star Ashley Tisdale, who played Sharpay.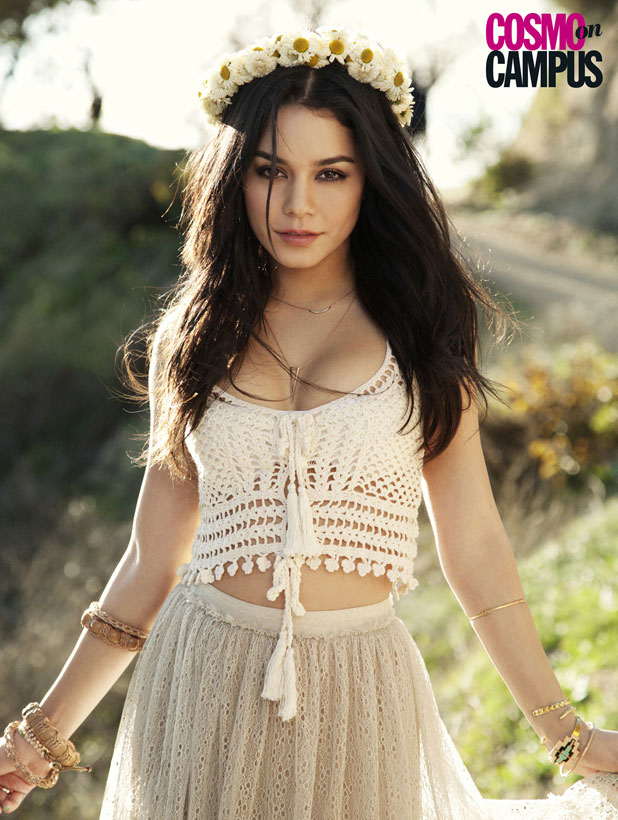 Discussing their bond, Vanessa said: "Ashley always says she wants me to be more cautious. She thinks I'm too trusting. I think I'm fine the way I am, but she thinks I have a tendency to float around on a cloud, which I kind of do.
"She's quite protective – she always has my back. If you're my best friend, I'll trust you with my life. There's an assumption celebs only trust friends who are in the same industry, but it's not like that for me. If you click, that's all that matters."
"Ashley and I have laughed and cried together over the years. She comes to me for relationship advice more than I go to her, though; I try to figure stuff out by myself."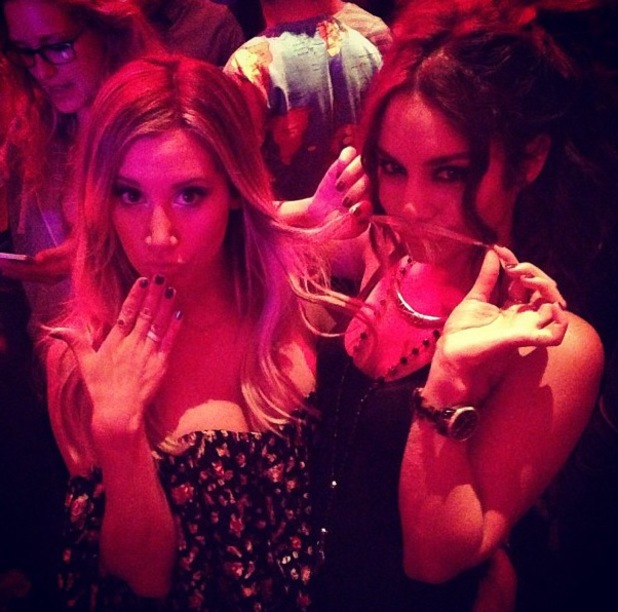 And when it comes to relationship woes – or even the end of a tough day at work – it seems Vanessa is a girl after our own hearts.
"When a girlfriend is going through a break-up, you have to go out and dance. With your best friends, you've got to be there for them no matter what. I love taking my girlfriends away from their worries and enjoying life with them. If there's a problem, a bottle of wine goes a long way. It's the same after a long week of filming – a glass of wine and a bit of chocolate makes me happy. And I love a theme party! Give me a theme and I will dress up like there's no tomorrow."
Just because she likes dancing, however, doesn't mean she's a big party animal. In fact, we don't think we've ever seen Vanessa exiting a club late at night.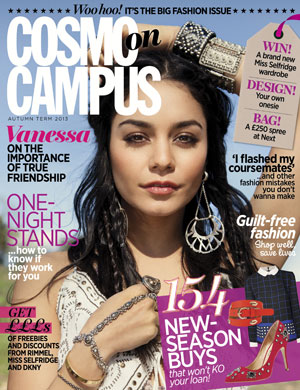 She explains: "I have never liked 'partying'; I love dancing, but that's as far as it goes. It's tough because a lot of clubs are everything I loathe, especially in LA. They're always very ego-filled and people get up to mischief. It's just not a pure environment. I stay away from [drugs] because I know it's smart to steer clear."
With a hugely successful film career, you'd think Vanessa would be satisfied... but there's still one thing she wants to check off her to-do list: university.
"I got into acting young and I wasn't as fascinated with learning as I am now; the older I get, the more curious I become. I'd like to study film or photography one day."
The full interview appears in the Autumn issue of Cosmo of Campus, available from 9th October. Also available in digital edition on Apple Newsstand.Check out Vanessa's style CV at Cosmopolitan.co.uk/vanessa