Jessica Simpson has kept her three-month-old son Ace Knute largely away from the spotlight, but over the weekend she couldn't resist sharing a cute picture of the growing infant.
The singer-turned-entrepeneur uploaded two sweet snaps of herself cuddling little Ace on Saturday (5 October), adding no caption but: "3 months."
He's quite the cutie, isn't he?!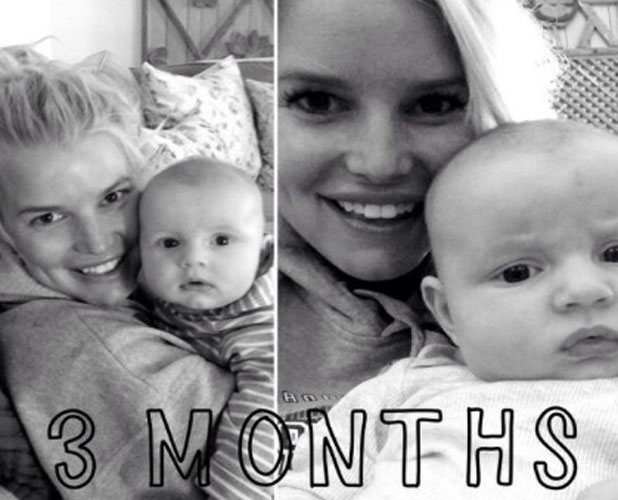 Jessica and her fiancé Eric Johnson welcomed their second child in June 2013
, a year after the birth of their daughter Maxwell.
The baby's unusual middle name of Knute was to honour Eric's Swedish grandfather.
Jessica debuted her baby son in a magazine shoot back in August 2013, telling
Us Weekly
: "With two kids, we have our hands full, but every day is a new adventure. It's fun! I feel very at peace with being a mum."
The former
Newlyweds
star added that she and Eric aren't planning any more children, but joked: "Obviously, accidents do happen!"
Now that little Ace is three months old, talk has started up about when Eric and Jessica will tie the knot.
They became engaged back in November 2010 and have
organised two weddings, only to postpone them both after Jessica fell pregnant
.
She joked in January: "We've had two different wedding dates, but he keeps knocking me up! We're doing it very backwards, I know... I don't know, I'll just keep my legs crossed, I guess, this time."
More celebrity babies born in 2013 - pictures!
Copyright: Love & Lust London