Hulk Hogan has given us an eyeful of his semi-naked self by filming a spoof of Miley Cyrus' controversial 'Wrecking Ball' video.
The former professional wrestler showed his sense of humour by ditching his trousers and swinging around on a wrecking ball to promote his new company, Hostamania.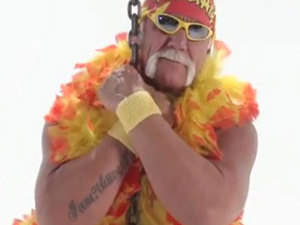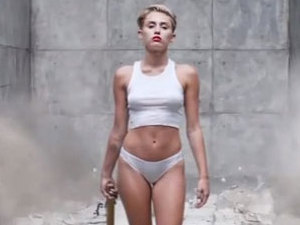 There's no sledgehammer licking or tears, but we do get a pretty clear shot of the 60-year-old's thong-clad bottom and some tongue action.
Watch it below:
There's no word yet on how Miley feels about the video, although she's been pretty busy lately exchanging words with Sinead O'Connor via Twitter.
Miley, 20, released the
original 'Wrecking Ball' video last month
and immediately hit the headlines worldwide thanks to her very naked appearance, sledgehammer licking and rather flawless beauty in the close-up shots, inspired by Sinead's 'Nothing Compares 2 U' video.
Directed by Terry Richardson, the video has racked up an incredible 186 million views to date.
Watch Miley's video below: