Rihanna
has finally released the much anticipated video for 'Pour It Up', which sees her swing on a stripper's pole and prove her twerking skills while surrounded by water and dollar bills.
Various behind the scenes snaps have been posted by Rihanna over the last few days, indicating that the full not-safe-for-work visual was ready to be unveiled and of course, it's causing quite a stir already.
Watch the video below (warning: it's marked explicit):
In keeping with the sexy strip-club theme of the song, RiRi dons the skimpiest outfit she can find and writhes around on a golden throne, as well as a stripper's pole.
Her denim shorts have been cut into what can only be described as a thong and she is also sporting a jewel encrusted bra, teamed with a blonde wig and a huge fur coat.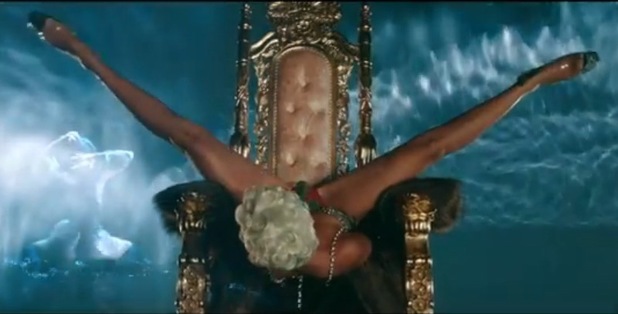 The raunchy antics have been co-directed by Rihanna herself, which is actually not too surprising given her love for barely-there clothing and penchant for visiting strip clubs.
And although the 25-year-old pop star appears to have a knack for dancing around a pole here, she apparently only took her first pole dancing lesson this year on the 'Pour It Up' video set.
She could have fooled us!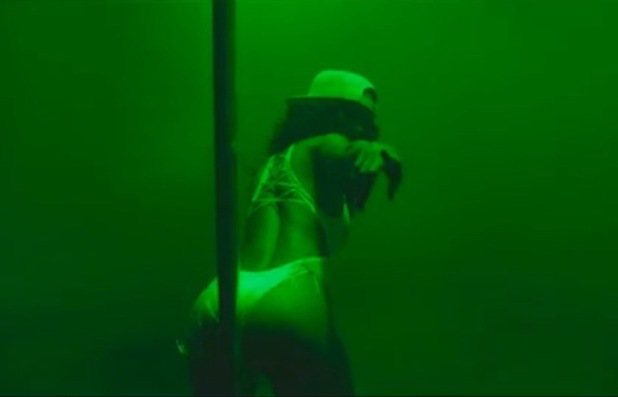 The scenes on the pole see RiRi wearing her longer black hair extensions, as well as a backwards cap and a risqué leotard with tassels at the back.
She is also joined by professional exotic dancers Nicole 'The Pole' Williams, Candace Cane and Secret Moneii, who perform some rather impressive pole acrobatics of their own.
Later in the video we watch as the chart-topping star twerks on her throne, throws money in the air and even gets down on all four to twerk in the water!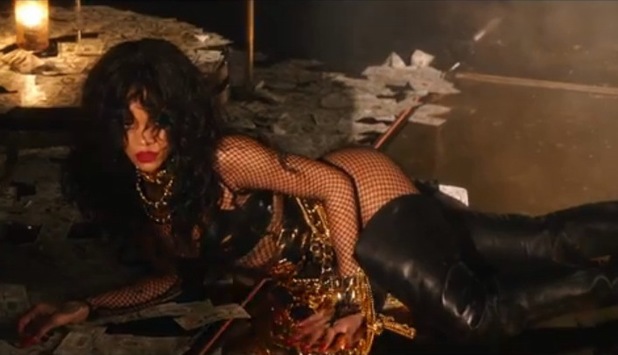 There is one other outfit change too, as RiRi swaps her blonde wig for a curly black one and dresses in an all-black ensemble, covered in gold chains and Chanel jewellery.
We have to admit that although this visual is sexy and attention-grabbing, we were honestly expecting something a little more shocking from the Bajan pop princess.
After all, she'd uploaded so many behind the scenes shots already this week that we were fully prepared for her to be half naked and dancing provocatively. And that's hardly unusual for raunchy RiRi anyway!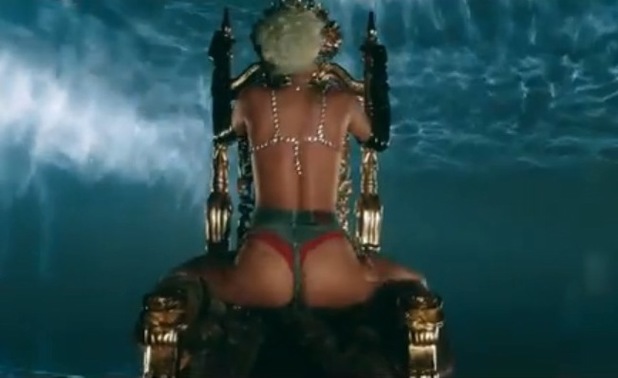 As fun as this song is, the video was a little too predictable.
'Pour It Up' is taken from Rihanna's current album,
Unapologetic
.
What do you think of the 'Pour It Up' video? Let us know below, as the best comment each week wins £50!