Rising UK boyband Overload are ready to storm the music industry with their new brand of "cheeky pop", a massive (and rapidly growing) fan base and bags of determination.Reveal
recently caught up with Ollie, Joey, Jordi and RyRy, who range from 17 to 19 years old, and discovered that unlike many artists in this day and age that find fame on television shows such as
The X Factor
or
Britain's Got Talent
,
Overload
have an unfaltering drive to make it on their own and build their group's identity organically.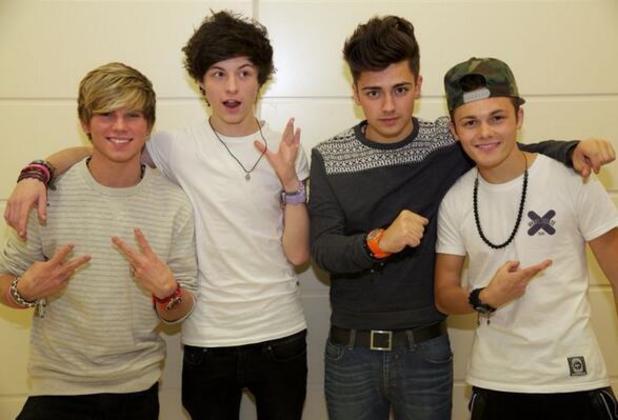 On the subject of identity, the four guys explained to us that they actually consider themselves "the people's boy band", since their group's name was picked out by fans over Twitter.
Joey said: "When we first put the band together we asked the fans to pick a name for us, so we are really the people's boy band. We've been built around the fans and we try and interact with them as much as we can.
"We started off with the Twitter name '@yourboyband' before we were Overload and we asked the fans to name us. I don't think many other boybands interact with their fans as much as we do."
And it is this unrivalled interaction with their supporters that has earned Overload over 100,000 followers on Twitter already (you can follow them @OverloadMusic) - without even putting out a debut single!
RyRy explained: "It just exploded when we came together as a band. We did our first Twitcam [live stream] and we woke up the next day and had loads of followers, which kept growing and growing and growing."
Ollie added: "I think after just two days of setting up our Twitter we already had around 10, 000 followers. It exploded."
So while we had Overload all to ourselves, we decided to get to know the soon-to-be-stars a bit better and we even bagged an exclusive acoustic performance from them too!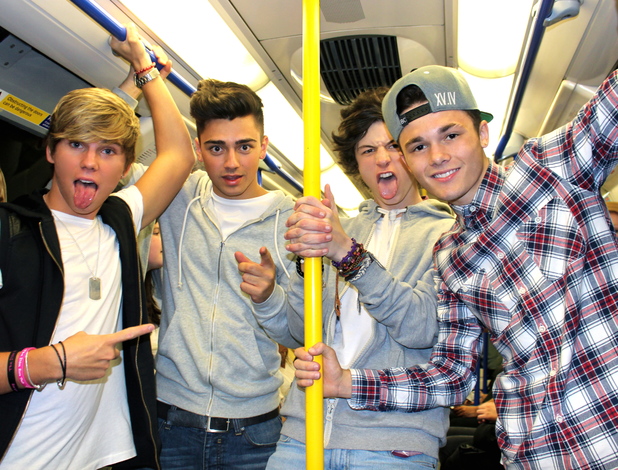 How long have you boys been in the band?
RyRy: "I'd say it's about 11 weeks now. Not long at all."
Ollie: "Our manager wanted to put together a boyband after putting together Union J, He literally scouted YouTube, came across all four of us and put us all in a band, which is bizarre really because we're all from different parts of England."
RyRy: "We're staying at our manager's house now and just working on a lot of things like social media, building a fan base and that kind of stuff."
Has it always been your ambition to be pop stars?
Joey: "I've always wanted to be in a boyband. I've liked boybands from a young age and I'm a musician, I play piano. So yeah, it's something I've always wanted to do."
Ollie: "I grew up with a family of musicians so I naturally got into music. I can't wait to perform at a stadium and get that feeling. It's going to be insane."
Jordi: "I used to sing around the house a lot and I used to love boybands, so it was a big ambition of mine."
RyRy: "Same for me. I grew up listening to boybands all the time. My mum was always playing bands around the house and singing along to people like 'N Sync and Backstreet Boys."
So what did you guys think of 'N Sync's reunion at the MTV VMAs this year?
Jordi: "It was amazing! I think they should get back together properly and do a comeback. They've set up a Twitter account, maybe they will. It was awesome, they were doing all of their old dance moves."
We know that your fans came up with the name 'Overload' and you have a lot of Twitter followers. Is it important for you four to interact with your fans constantly?
Jordi: "Yeah, really important. We so Twitcam as much as we can and the fans send us questions over Twitter that they want us to answer on the Twitcam, so they can find out bits and pieces about us. It's always good to keep interacting with them every day."
RyRy: "We thought the name Overload suited us too, so we're glad they suggested it. We're a bit wacky, so Overload suited us really well because it kind of stands for too much of something and that's a bit like how we are."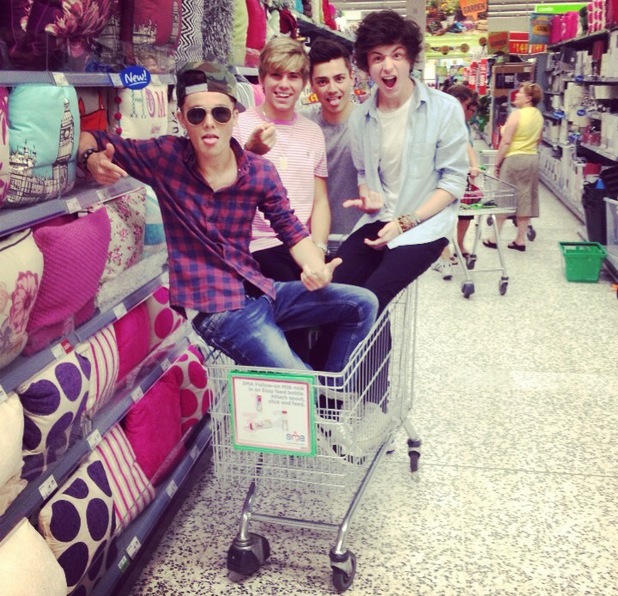 What are you guys working on at the moment then - is there an album in the pipeline?
Ollie: "We're currently in the studio working on our album. We've been to the studio a lot, for many hours. We've done four records so far, which we all absolutely love."
Joey: "We're also trying to keep building up our fan base and we're working towards doing a gig."
Which artists are you inspired by?
Jordi: "I've been inspired by Justin Timberlake. I love the way he sings and dances. He inspires me the most. We don't dance though! We aren't the dance type of group to be honest."
RyRy: "I'm inspired by a lot of young artists because it's awesome to see what they have achieved at a similar age to us. Like Justin Bieber, I just look at that and think if we could achieve what he has at that age it would be awesome."
Joey: "I'd say Michael Jackson inspires me. He's the King Of Pop."
Ollie: "This is where I'm a bit different because I would go for the King of Rock'n'Roll: Elvis Presley. The guys always take the mick out of me because I like my older music. I grew up listening to him all my life because my dad loved Elvis. I love the Rock'n'Roll dancing as well. That's my little party trick."
Since you're a young British boyband, have you had any comparisons with Union J or One Direction yet?
Joey: "Obviously it's quite flattering to be compared to One Direction sometimes. They've been on a big show like
The X Factor
and they're the biggest band around at the moment now, but we want to try and bring our own sound out. Our genre is more 'cheeky pop', not as clean cut as One Direction.
RyRy: "The comparison is always going to be there, but I think we are doing well on making our own sound and we want to continue working on that."
Joey: "That's why I can't wait until the fans can actually hear our music. It's not the general boyband stuff, it's really different."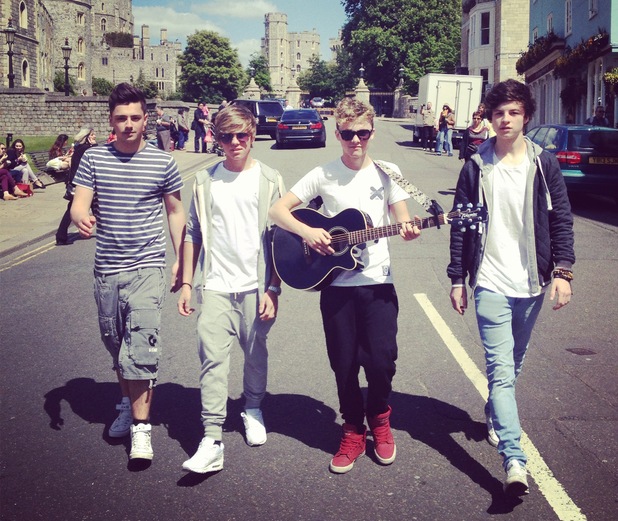 Would you ever go on The X Factor?
Joey: "No we wouldn't to be honest. We want to try and make it on our own the old school way."
RyRy: "Don't get me wrong, it's an entertaining show. I don't dislike it, it's fun to watch. But personally, I think we'd like to go down the old school route."
Joey: "We just want to show people that you can do it on your own and you can do it organically. If you put the time in and interact with your fans, you can build up that fan base without the big backing of a show like that and I think it's been going well for us so far."
Are there any artists you would like to work with at the moment or in the future?
RyRy: "We're doing a lot on our own at the moment. We have a lot of writers in the studio and since we're fairly new at this, we're learning from the people around us. It's all a massive learning curve for us. But [American singer] Tori Kelly would be cool to work with."
And we have to ask, are you four single?
All: "Yeah!"
Can you tell us a fun fact about each of you?
Ollie: "At one point, I was the fourth best amateur boxer for my weight in England."
Jordi: "I used to be a semi professional motor cross rider."
Joey: "I've been playing the piano from a young age, so I know how to write songs."
RyRy: "Before the band I used to work at a school teaching kids PE. I was on an apprenticeship and teaching sport, so that was fun. I fell into it really, while I was still doing music. I went back to see the kids the other day and they were all like 'Oh My God' because they're fans of Overload now. They've been liking our page on Facebook and all sorts!"
With those varied (an unexpected) skills and such a passion for music, we can imagine that you'll be seeing a whole lot more of Overload in the months to come!
Check out the group singing an impressive acoustic set exclusively for Reveal in the video below.
What do you think of Overload? Could they be the next One Direction? Let us know below, as the best comment each week wins £50!