Kanye West lashed out at television host Jimmy Kimmel on Twitter last night after Jimmy made fun of Kanye's recent interview with Radio 1's Zane Lowe.
The rapper - who is rarely seen on the social networking site - unleashed a series of tweets attacking Jimmy, calling into question his integrity as a media personality, his personal relationship with Kanye and the amount of women he'd slept with!
This unexpected Twitter rant was triggered by a spoof interview that Jimmy aired on his popular TV show earlier this week, which made fun of Kanye's serious sit-down with Zane and mocked some of the points that the rap star was trying to get across.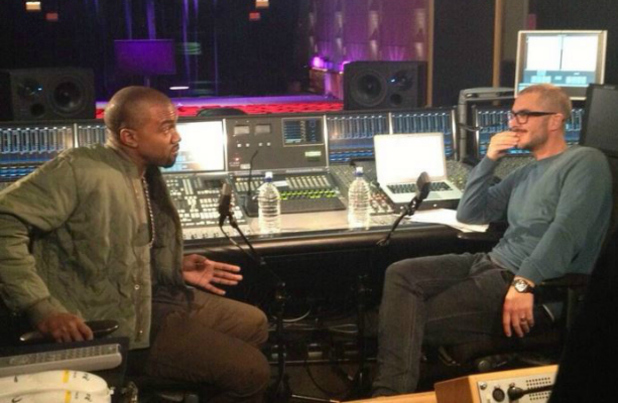 Jimmy's spoof involved two children re-enacting Kanye's enthusiastic chat with Zane while they both sipped on milkshakes.
Before playing the kids' parody on Jimmy Kimmel Live!, the comedian and TV host also joked: "[Kanye] said that he's the number one rock star in the planet, whatever planet he's on."
But Kanye didn't see the funny side and yesterday evening (26 September) he decided to let everyone - especially Jimmy - know just how annoyed he was.
The Yeezus rapper wrote (entirely in upper case): "JIMMY KIMMEL IS OUT OF LINE TO TRY AND SPOOF IN ANY WAY THE FIRST PIECE OF HONEST MEDIA IN YEARS.
"JIMMY KIMMEL, I DON'T TAKE IT AS A JOKE…. YOU DON'T HAVE SCUM BAGS HOPPING OVER FENCES TRYING TO TAKE PICTURES OF YOUR DAUGHTER
"JIMMY KIMMEL PUT YOURSELF IN MY SHOES … OH NO THAT MEANS YOU WOULD HAVE GOTTEN TOO MUCH GOOD P**SY IN YOUR LIFE…
"YOU CAN'T PUT YOURSELF IN MY SHOES. YOUR FACE LOOKS CRAZY… IS THAT FUNNY?… OR IF I HAD A KID SAY IT WOULD IT BE FUNNY???"
"SHOULD I DO A SPOOF ABOUT YOUR FACE OR YOU F*CKING BEN AFFLECK…#NODISRESPECTTOBENAFFLECK #ALLDISRESPECTTOJIMMYKIMMEL!!!!"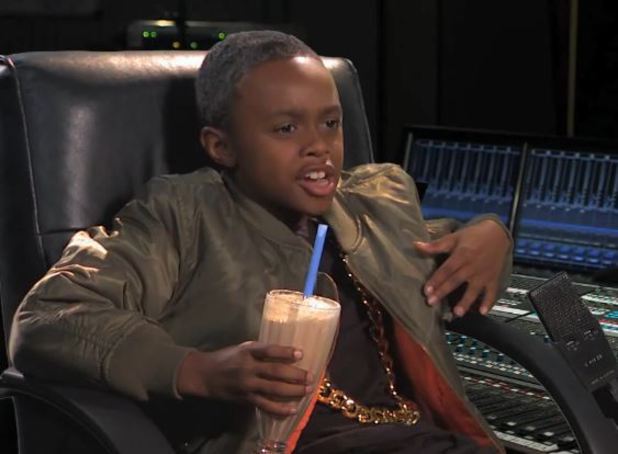 36-year-old Kanye then revealed that he had spoken to Jimmy right before sending out his tweets and that he and Jimmy had both previously attended a wedding together.
"I LIKE YOU, YOU KNOW ME, I WENT TO YOUR FAMILY'S WEDDING WHO YOU MADE CLEAR TO ME WASN'T YOUR FAMILY WHEN I WAS ON THEN PHONE WITH YOU 5 MINUTES AGO, YOU MANIPULATIVE MEDIA MOTHERF*CKER."
He concluded by claiming that stand-up comedian and actress Sarah Silverman - Jimmy's ex-girlfriend - is more successful at making people laugh than Jimmy is.
"SARAH SILVERMAN IS A THOUSAND TIMES FUNNIER THAN YOU AND THE WHOLE WORLD KNOWS IT!!!"
Kanye's tweets were followed by a couple of pictures making fun of Jimmy Kimmel's face and bizarrely comparing him to Spongebob Squarepants.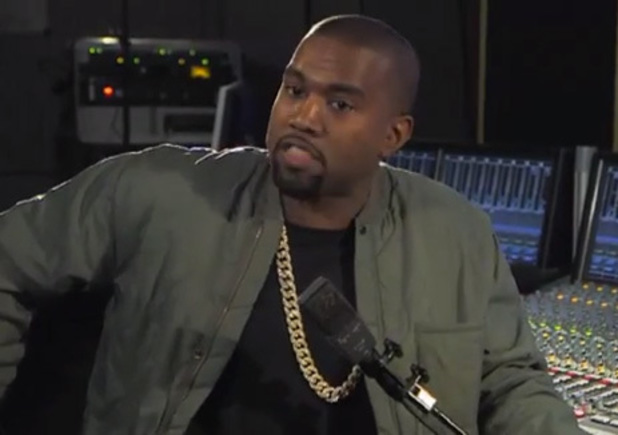 But instead of being offended, 45-year-old Jimmy found the whole exchange amusing and continued to poke fun at Kanye.
Not taking the insults too seriously, Jimmy tweeted: "Apparently @KanyeWest is VERY VERY ANGRY with me...."
"I swear, @kanyewest one more of these I WILL unfollow you #warning #Goshdarnit"
The TV host then went on to reveal his side of the story on Jimmy Kimmel Live! later that night.
He said: "
Kanye West
called me about an hour and a half ago in my office and he's very angry... He called me. He said a lot of things. He said I had two choices. Number one: apologise publicly and that was really the only choice. The other choice was that he said 'Your life is going to be much better if you apologise'. And then he started tweeting today.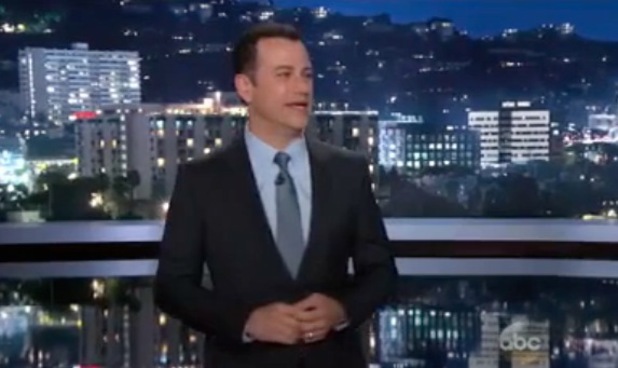 Jimmy added that Kanye had also referred to himself on the phone as the late rapper Tupac Shakur.
"He did come to my friend's wedding and he was very nice at the wedding," Jimmy said. "By the way he told me on the phone 'I am the most powerful voice in media. I am Pac'. He said 'I am Pac' a few times to me... I don't understand why he's angry... Finally I'm in a rap feud!"
We guess Jimmy shouldn't be expecting Kanye as a guest on his show anytime soon!
What did you think of Jimmy's spoof? Let us know below, as the best comment each week wins £50!