We're loving Russell Kane and Greg James' new chat show, BBC's Staying In With Greg And Russell.Here, Russell tells us about their budding bromance, his celebrity crush, upcoming wedding and his secret talents…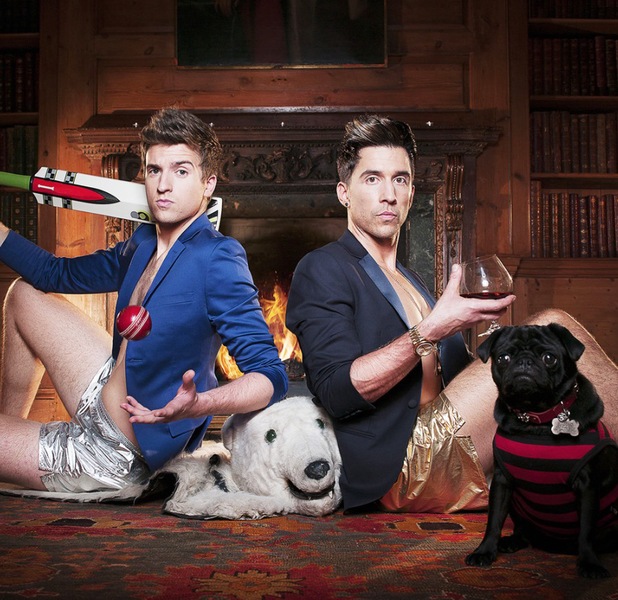 When it comes to your chat show questioning style, are you more of an Alan Carr, Terry Wogan or Jeremy Paxman?
I would like to think I'm more of an Alan Carr, he being a comedian who does a chat show. I don't think I'm very Jeremy Paxman, I can't imagine grilling Nicole Scherzinger in that way, although I can imagine grilling Nicole Scherzinger in another way… And I frequently do imagine grilling Nicole Scherzinger in that way. That's why I've got massive forearms.
How long have you and Greg been pals?
I did an interview with him and we got on, then we turned up at a couple of the same parties and had a beer, it went from there really. Then this idea landed on our desk and we loved it, and it works because we've got such a good friendship. We spend so much time together, we go out for lunch together, we've been on holiday together, we share girlie problems.
It's quite a bromance then. What's the most romantic thing you've done for each other?
I don't know, but I might send Greg flowers now, just so I have an answer! I've introduced him to my parents, so that's quite formal.
Does your dog, Colin, make an appearance on the show?
Yes he does! He's in the credits, and he's got his bed under the snooker table. He'll be there for a lot of the show and if guests come on with their dogs, there'll definitely be some dog on dog action.
Has Greg got a dog?
No, Greg doesn't like animals, children or feelings.
Are there any guests that you're nervous about interviewing?
As soon as the cameras are rolling, I'm fine, but off camera I'm a nightmare. I remember when I met Sir Alan Sugar, I couldn't get the words out, and he just looked at me and walked off.
You're about to get married, is your fiancée nervous about you meeting Nicole?
Lindsey [Cole] is actually the make-up artist on the show, so if you see me with a really red eye, it means a make-up brush was stabbed in it. Lindsey's from Manchester and I'm from Essex. It's all the rage at the moment, isn't it? Like Michelle Keegan and Mark Wright.
Maybe you could have a double wedding?
Yeah, we are. With Arg as best man.
How are the wedding plans coming along?
We're going abroad so we can keep it absolutely tiny. It's only relatives and three friends who I've known since we were kids.
So no Greg?
Nope, Greg's not coming!
Can you tell us a secret about yourself?
I've got this weird skill where I can write in blank verse like Shakespeare, so I can change what someone says into Shakespearian blank verse, it's almost like a weird thing where I can see the word and swish it round. And I can make up similes on the spot – just nerdy things like that.
Is that true?
That's true. I know it's not very sexy, but I can do similes at will.So basically, I'm really good with language and I'm a Sex God… make sure you put that in!
Staying In With Greg And Russell, 10pm, Wednesdays, BBC3