Robin Thicke delivered an energetic music set last night set as he headlined the iTunes Festival in London.
The 'Blurred Lines' hitmaker worked the crowd up into a sweat with his smooth falsetto, choreographed dance routines and flamboyant stage displays.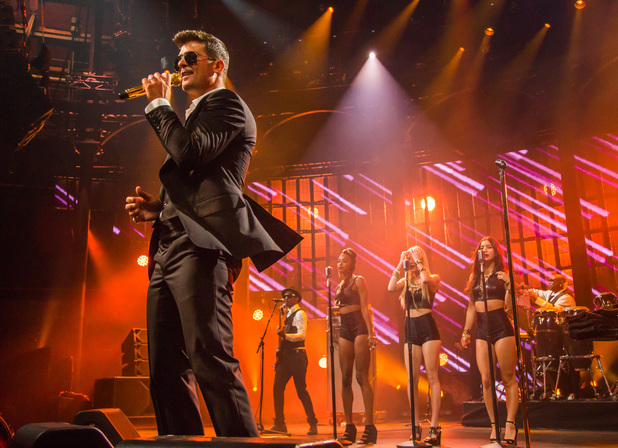 Robin introduced his three female performers for the night, who all coordinated in matching black crop tops and skin-tight high-waisted shorts, before later changing into similar white ensembles.
Robin made quite an entrance in a tailored black suit and crisp white shirt, teamed with black aviator sunglasses and neatly trimmed hair.
He sang a collection of his songs including 'Magic' and 'Lost Without You' and turned on the charm for the screaming girls in the crowd, saying: "There's a lot of beautiful faces, it's getting a little bit naughty in here!"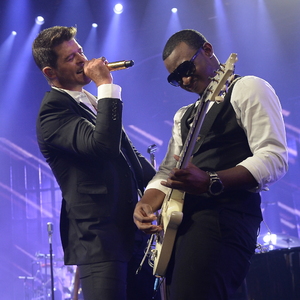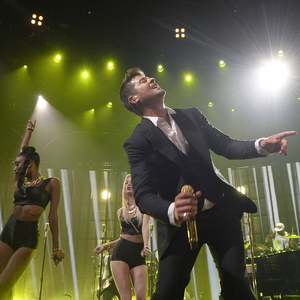 The 36-year-old R&B star serenaded fans by stepping down to the crowds, where he threw his used towel into the distance and even held a fan's hand as he sang to her!
Once returning to the stage, he joked: "You guys were so mellow up until that point," before later adding, "One of you tried to take my clothes off!"
In another segment of the hour and a half set, Robin took to the piano to perform a ballad for fans, telling them to "never give up on their dreams."
Robin got his first number one worldwide hit with single 'Blurred Lines' in May, and also topped the charts with his sixth studio album of the same name in July.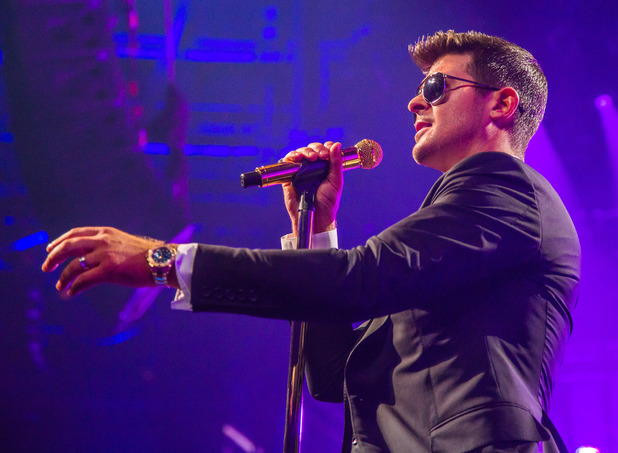 Speaking to the audience, he said: "Thank you so much, don't give up on your dreams because dreams come true, I'm living proof of that. From your support this year, I got my first number one, so dreams do come true."
"I want to thank my fans who were with me from the very beginning, new fans, and those of you who aren't fans yet. Hopefully you will be one day," he continued.
Robin performed the much-anticipated 'Blurred Lines' as his last song, and while there were fans in the audience waving foam fingers in the air - made famous by
Miley Cyrus' raunchy dance display at the MTV Video Music Awards
- there was nothing controversial about this performance!
Straying away from his own material, Robin also treated fans to renditions of Michael Jackson's 'Rock With You' and Al Green's 'Let's Stay Together'.
Download the free official iTunes Festival app to see the line-up, apply for tickets, and watch the shows live or on repeat for a limited time. Visit: www.itunesfestival.com.
Watch a clip of Robin performing 'Give It 2 U' below: