Rihanna was caught in a nasty war of words with singer Teyana Taylor last night, as she threw indirect insults over Twitter and bragged about being worth millions more than her fellow artist.
The spat supposedly kicked off yesterday (24 September) when RiRi uploaded a video of her hairdresser Yusef dressed in a curly wig similar to Teyana's and singing Anita Baker's 'Caught Up In The Rapture.'
Apparently the video was making fun of a previous Instagram clip posted by Teyana, in which she was singing the same song.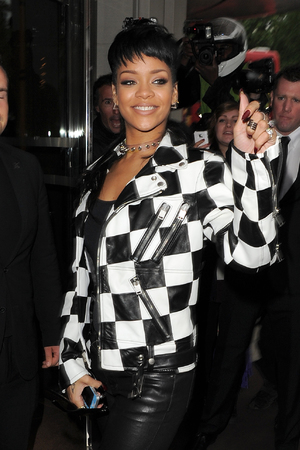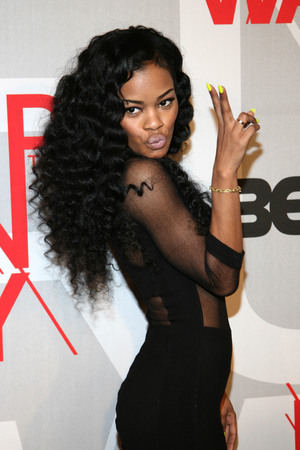 But Teyana - who is signed to Kanye West's G.O.O.D Music label - didn't see the funny side and took to Twitter to express her frustration and accused
Rihanna
of being a bully.
The 22-year-old songstress wrote: "Don't play wit me Rihanna f*ck all this industry sh*t, YOU & I know each other VERY well. Throwing subliminals for wat? You got my number, don't show off."
When RiRi's loyal supporters (also known as the Navy) chimed in and backed up their idol, Teyana continued: "Y'all could bully everybody else & get away wit that sh*t but that sh*t ain't gone work over here. So y'all could miss me with that NAVY sh*t.
"I sing 'Caught In The Rapture' on IG then she posts her boy singing the same song, the same part, with curly hair and a snap back???
"Petty is petty and shade is shade, b*tch knew what the f*ck she was doing."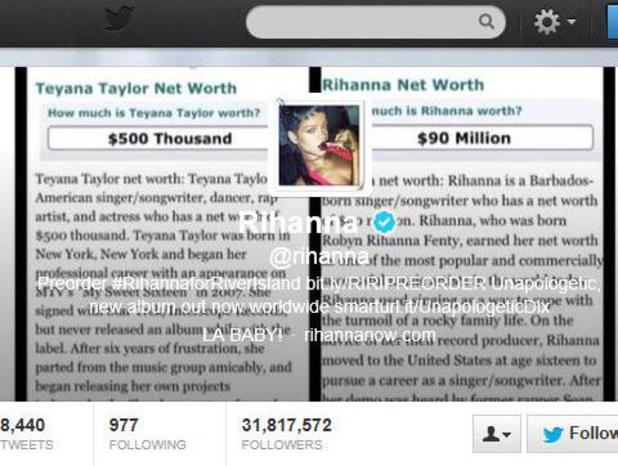 Rihanna, 25, didn't take these tweets lying down and although she failed to address Teyana directly, she soon wrote: "I REFUSE to help your career…you will NOT get an @ from me! Not til you pay me! #nomorefreepromo #iRefuse."
The Bajan superstar then rubbed salt in the wound by suggesting that Teyana had no money and tweeted: "I hate broke b*tches".
To make her point even clearer, RiRi temporarily changed her header image on Twitter to a picture of her total net worth alongside a shot of Teyana's net worth.
However, Teyana hit back by saying that she was worth more than the picture showed and that Rihanna's apparent 90 million net worth was only rivalled by the 90 million men she's alleged to have slept with!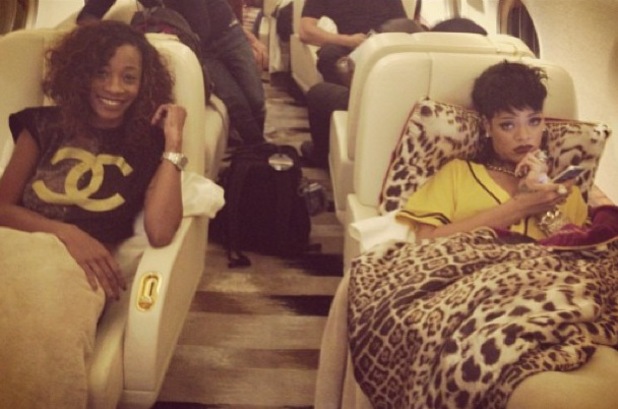 Her attacks on Rihanna's alleged promiscuousness soon provoked a reaction from RiRi's best friend Melissa Forde, who proceeded to tweet a series of hashtags to Teyana, including: "#tourdatesareavailableonline #catchMifucan".
Rihanna and Teyana have since deleted their tweets and it sounds like their previous friendship is well and truly over now too.
This isn't the first time that straight talking RiRi has caused a stir by firing shots at people over Twitter. She has also made fun of R&B singer Ciara and Chris Brown's on-off girlfriend Karrueche Tran.
Do you think Teyana was right to say something? Did Rihanna take it too far? Let us know below, as the best comment each week wins £50!