Miley Cyrus' dad Billy-Ray has defended her following the controversy sparked by that raunchy MTV Video Music Awards performance and subsequent naked 'Wrecking Ball' music video.
Former
Hannah Montana
star
Miley set tongues wagging in August thanks to her very, very racy twerking performance with Robin Thicke and the VMAs
- then
bagged headlines again by appearing very, very naked in the promo for new song 'Wrecking Ball'
.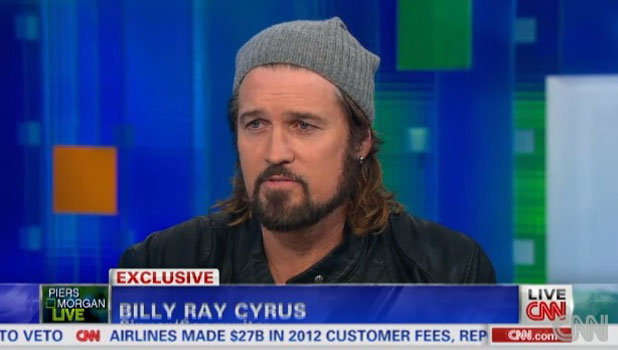 But appearing on CNN's
Piers Morgan Live
on Thursday (19 September), her dad Billy-Ray said inspiring such passionate reactions from observers is something that all great artists do with their work.
"Music is supposed to make you feel," he said. "You can either love it or hate it - that's everyone's right. It's art... I've never known any great artist that was lukewarm and the fans were in the middle. You either love it or hate it."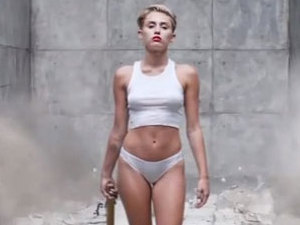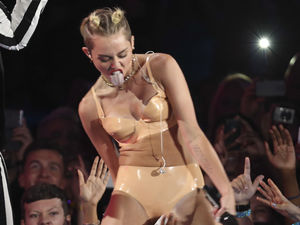 Billy-Ray said that 20-year-old Miley has worked hard to shake her
Hannah Montana
image, pointing out that reinvention is difficult.
"Miley is a very smart young lady and reinvention is tough," he told Piers. "She's smart enough to know that coming out of the shadows of Hannah Montana takes something drastic. When you go to that level it creates passion it is either love or hate. There is no middle of the road for passion."
He went on: "She has worked hard to get to this point. She went and cut her hair off, which is huge. She could have stayed Hannah Montana forever and made a great living doing that but she's more of an artist than that and she wanted to evolve. She's smart and has thought this out in advance... She set a path and knew what she wanted to do."
Billy-Ray appeared to dodge giving any outright answer on what he thought of the 'Wrecking Ball' video, saying only "not really" when asked if he found it uncomfortable.
He added that for him, as a father, the main thing is that Miley is doing something that makes her happy. "She's very focused and loves what she's doing."
Miley defended her MTV VMAs performance during an interview with Alan Carr on Chatty Man
last week, saying: "It wasn't about the competition or what other people think, it was really more about expressing yourself as much as you can, and really celebrating your video... I didn't get why people were so surprised."
Watch Miley's video for 'Wrecking Ball' below (warning: she does get naked)