Abbey Clancy says she would never let her husband take part in Strictly Come Dancing.
The model, who is a contestant on the new series, said her footballing husband Peter Crouch, 32, is jealous that she is taking part in the talent show and wishes it was him who was taking part instead.
But Abbey quashed that dream by telling
The Sun
: "I'm not sure I'd allow that though. The girls are too hot!"
Instead the Stoke City striker, who is famous for his robot dance, will have to watch his beautiful wife cha-cha-cha-ing with a hot male dancer.The pairings will be revealed on tonight's launch show (7 September), but Abbey says she is delighted with her partner: "I'm going to have to wear make-up in training. He's gorgeous."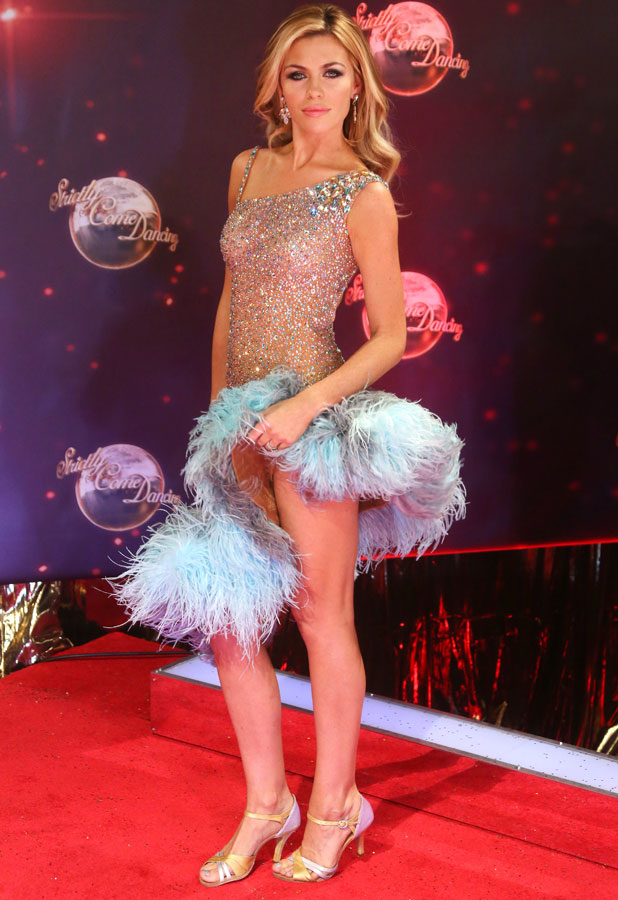 Abbey, 27, is among 15 contestants who will be donning the sparkling outfits, but the lingerie and catwalk model at first told
Strictly
bosses she only wanted to wear black. But she now says: "That's all changed – I wore turquoise and my legs are like two bronzed copper pipes. I've got the bug already."
And revealing a bit of leg does not bother her either! However, she is concerned about how she'll match up to the professional dancers. "After seeing the professionals, you want to look like them. I have complete tan, glitter and hair envy!"
Pro dances Flavia Cacace and Vincent Simone told
Reveal
they believe Abbey will find the show hardest out of all the celebrities because of her model background.
Flavia told us: "For models it's harder. It's a very different posture to dance posture. For dancing, we turn their feet out and stretch their head up. Abbey's probably quite tall too, so it takes a lot of coordination if you've got long arms and long legs, and she may not have as much muscle strength compared to a female athlete. So it might be quite a physical challenge for her."
Watch Abbey and the other celeb dancers discover who they'll be paired with tonight at 6.30pm, BBC1.
Check out a full gallery of
SCD
contestants below:
Copyright: Rex Features David Fisher
Copyright: Rex Features David Fisher