Miley Cyrus may have proudly worn a latex bikini on TV in front of millions last month but yesterday she came across all camera shy as she arrived at a recording studio.
The 20-year-old covered her face with her handbag as she walked from her car to the studio in Los Angeles, California on Wednesday (4 September).
Or maybe she just wanted to flash her super cute purse?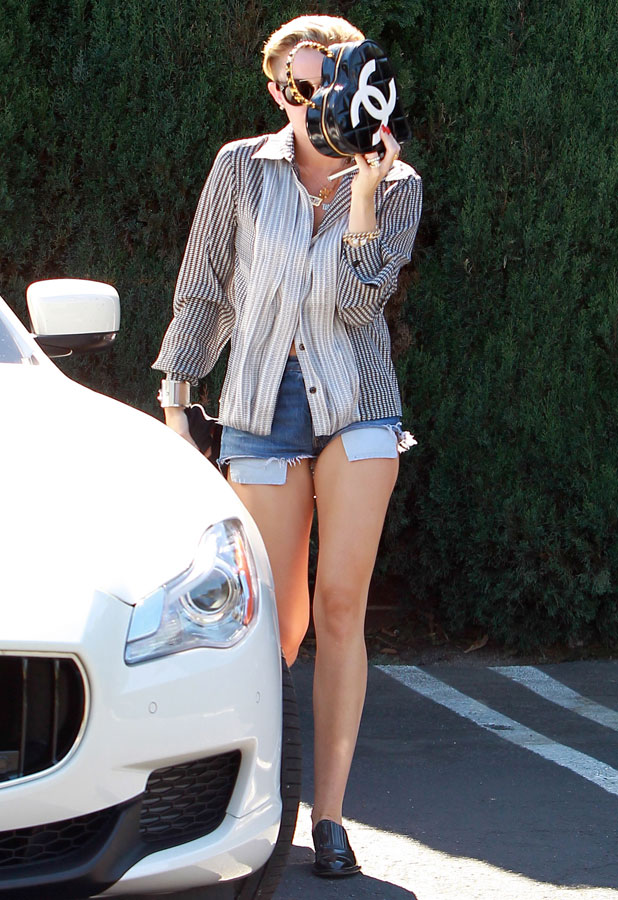 'We Can't Stop' singer Miley was carrying a gorgeous heart-shaped Chanel handbag that is now at the top of our handbag wishlist.
The singer hit headlines around the world at the end of August thanks to her
racy performance with Robin Thicke at the MTV Video Music Awards 2013
– not that she seemed to mind the attention.
Miley told
MTV News
: "What's amazing is I think now, we're three days later and people are still talking about it… Madonna's done it. Britney's done it. Every VMA performance, that's what you're looking for; you're wanting to make history."
Miley might find herself in the headlines again today after she tweeted a rather obscene message on Wednesday night. She wrote: "Just called this paparazzi a C***. So before he makes breaking "news" out if it. Ill just say it. Ha-Ha #C***."
Miley is promoting her fourth studio album
Bangerz
which is released 4 October.
Watch
Miley Cyrus
' video for 'We Can't Stop' below: