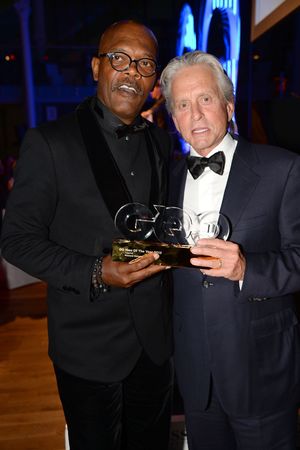 Following recent reports that Michael Douglas and Catherine Zeta-Jones are taking some time out from their marriage, Michael has now insisted that the couple will be "fine".
Last week, a
representative confirmed to Reveal that Michael and Catherine, who have two children together, were spending some time apart
in order to "evaluate and work on their marriage."
However, it doesn't sound as though the couple will be splitting for good anytime soon, as Michael has denied that their marriage is in "crisis".
While promoting his film
Behind The Candelabra
in the German capital of Berlin this month, the Hollywood actor addressed the rumours surrounding his relationship after being questioned by one reporter.
He said: "I have a crisis at home?... We are fine. My wife and I are fine.
The 68-year-old then revealed that he and Catherine were merely taking "a temporary separation".
Nevertheless, this bump in the couple's thirteen-year marriage hasn't got in the way of Michael's work commitments or public appearances as he promotes his Liberace biopic.
Last night (3 September), the A-lister was spotted in London hanging out with the likes of Samuel L Jackson, Elton John and Justin Timberlake at the GQ Man Of The Year Awards.
He was dressed smartly in a navy blue suit and a bow tie and he was also still wearing his wedding ring.
At the weekend, he looked in good spirits as he attended the Deauville American Film Festival in France. Coincidentally, it was
at Deauville in 1998 that Michael originally met Catherine
.