Fearne Cotton has said she'd love to marry boyfriend Jesse Wood but right now they're perfectly happy just being parents to baby son Rex.
The Radio 1 DJ and
Celebrity Juice
team leader opened up to
Cosmopolitan's
new issue about life as a mum since
welcoming her first child with Jesse
, the son of Rolling Stones' rocker Ronnie Wood, in February 2013.
Fearme, 32, said: "I'd love to get married and I'm sure Jesse would too, but we don't have any plans yet – we're so hectic with a baby and two other kids [Jesse's two children Arthur, 11, and Lola, seven], and we're both working. I think it's important to feel like a family unit though."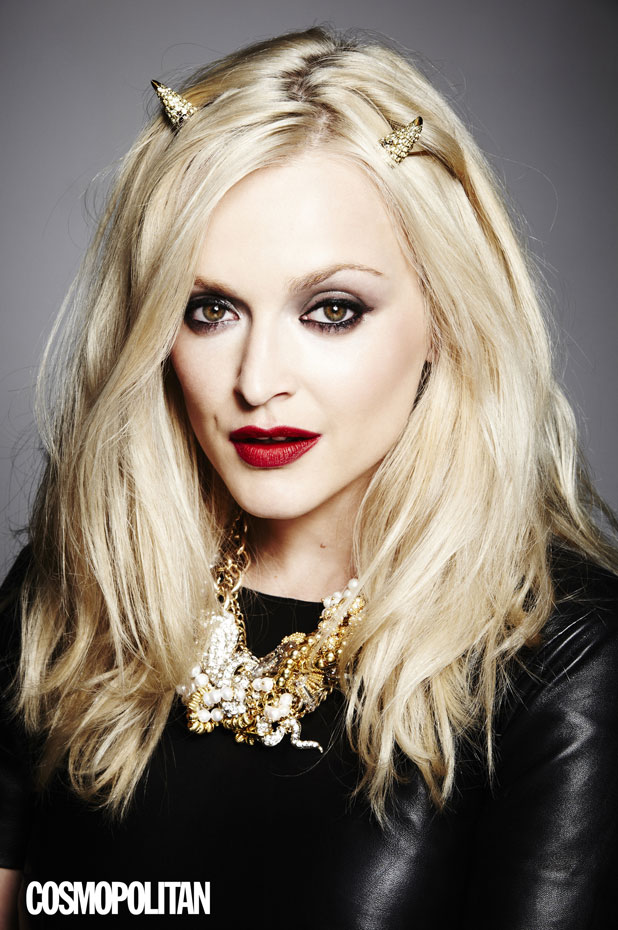 Fearne confessed that after her failed engagement to ex-fiancé Jesse Jenkins at the age of 29, she experienced a "rock bottom moment" when she thought she'd never meet anybody – then came Jesse Wood
"What you don't know at the time is that as one door closes, another opens – and, soon after, I met the love of my life and got to have a baby."
"Jesse and I met through a friend in a restaurant in Ibiza and we just clicked… I don't think there's anything you can really pinpoint when it happens like that. I'd been in love before, but this was different. He makes me laugh, and he balances me out.
"He makes me laugh all the time and he's so chilled out. He's been to hell and back in certain ways, so nothing fazes him; he takes it all with a pinch of salt."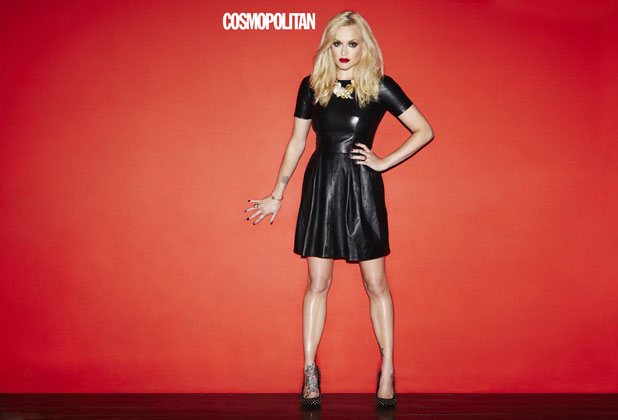 Fearne looks stunning in a series of sizzling photos alongside the interview – but admitted she isn't that worried about how she looks post-birth.
"I don't give a crap what people think anymore. Since I had Rex I'm like, wow, I can't believe my body did that! I've got boobs and a bum. I don't know if it's all still expanding hip-wise from giving birth, but I'm in no rush to get back into shape. I don't care if I'm on holiday and my stomach's hanging out."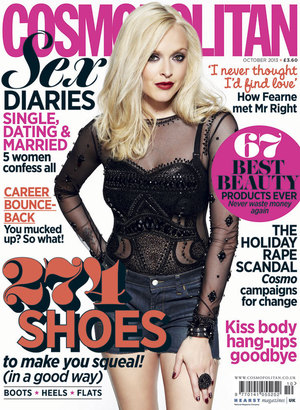 Fearne also said she doesn't' care if people aren't fans of her numerous tattoos, saying: "They are all a part of who I am. I haven't had one since I had Rex yet as I'm breastfeeding, but I will do. Jesse had one done, with 'Arthur', 'Lola' and 'Rex' on it. It's a feather, and it's beautiful."
Since becoming a mother, the fashion designer's priorities in life have changed.
"Having Rex has been a perspective changer and it's made me look at the industry differently. I work to live now rather than live to work. All those clichéd things have happened – I'm more overwhelmed and full of love than you can ever imagine because I've not had it before. My main priority is looking after this little man. And I feel totally over the moon that I've been able to do this."
The full interview appears in the October issue of Cosmopolitan, on sale 5th September. Also available in digital edition on Apple Newsstand
.
Behind the scenes footage can be viewed at
www.cosmopolitan.co.uk/fearne
.