Fearne Cotton was back at work on her regular Radio 1 slot today following a nine-month maternity leave and as a double celebration, it's also her birthday!
The 32-year-old looked in high spirits as she arrived at the central London studios on Tuesday morning (3 September) wearing a red striped T-shirt dress and black boots. Oh, how we've missed glimpses at Fearne's daily wardrobe!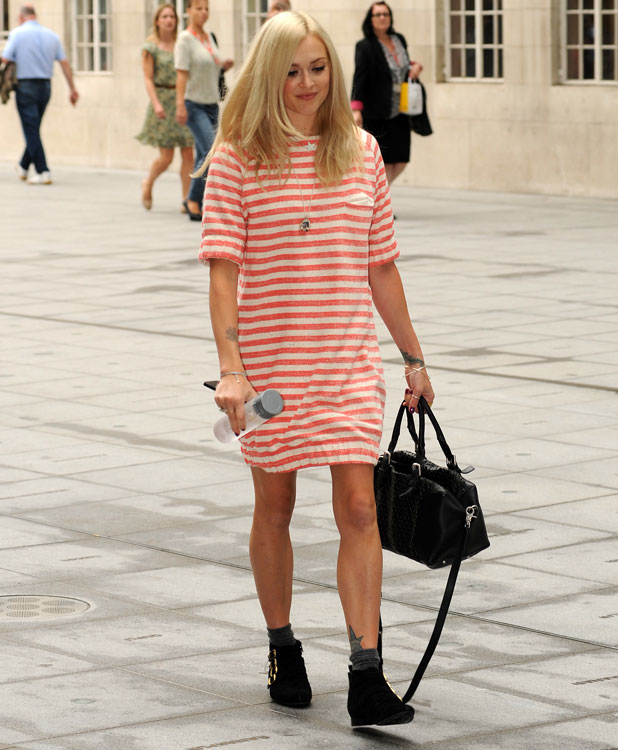 Fearne actually returned to the Radio 1 building yesterday
, where she joined Nick Grimshaw as co-host on the last two hours of the Breakfast Show. Today, however, was her first day back on the 10am slot.
"I am back! I'm very excited. I'm nervous slash excited," she said. "It's so lovely to be back. People keep saying is it weird being back on the radio, is it weird? But strangely it's not weird. I've obviously been doing other things these past eight months, changing nappies and being with my lovely son, but I'm back with my lovely team.
"I've not mentioned it much, but it is actually my birthday today, so happy birthday to me."
Fearne gave birth to her first child, Rex Rayne Wood
, in February. He's her first child with boyfriend Jesse Wood, who marked her birthday by giving her a card declaring 'Happy birthday you marvellous old fart'. Nice!
Happy birthday Fearne!