Kanye West has candidly spoken about his relationship with Kim Kardashian and his new daughter North in a pre-recorded interview with Kris Jenner for her daytime talk show.
The superstar rapper's chat will appear on
Kris
later today (23 August) and the Kardashian matriarch has been teasing viewers with a few clips of Kanye's sit-down over the last couple of days.
Yesterday (22 August), a new clip emerged of Kanye discussing his love for girlfriend Kim and how she has brought joy into his world, especially with the birth of their first child North in June.
Sat calmly beside Kris on the set of her show, Kanye appears miles away from the unapproachable and irritable persona he often conveys in his songs.
In fact, the rap star actually looks at ease and - dare we say it - happy, as he smiles and opens up about his personal life and how his grandfather's recent passing made him realise what is important.
Speaking about Kim and Nori, he explains: "I can have people saying this is going to damage your credibility as an artist or a designer, and I say I don't care, I love this woman. When the paparazzi surround you — people know you don't like paparazzi [and they say,] 'Why would you be with this person?' I'm being with this person because I love this person, and she's worth it to me.
"My grandfather just passed and his whole thing, it was never about money. It was never about popularity. His whole thing was joy and having joy in his life. She's my joy and she brought my new joy into the world. There's no paparazzi and there's no blog comment that's going to take that joy from me."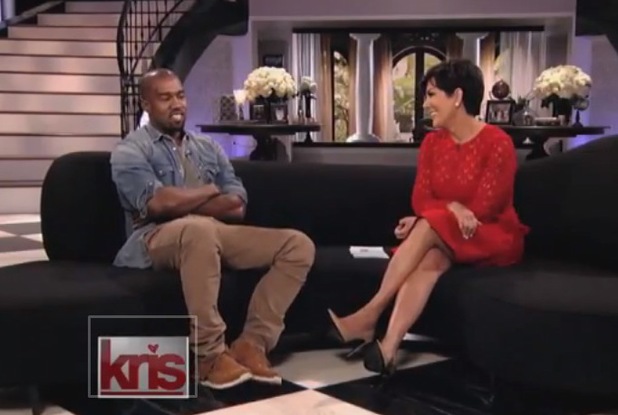 The
Yeezus
star also touches on the subject of his fascination with Kim before they began dating.
Possibly referencing
that
interview with Tom Cruise on Oprah, he says: "I just dreamed about being next to her and…I don't know. I don't want to start jumping up and down on the couch or anything."
The full interview airs today and will be available for UK viewers to watch on YouTube.
What do you make of Kanye showing his sweet side on Kris? Let us know below, as the best comment from across the website each week wins £50!