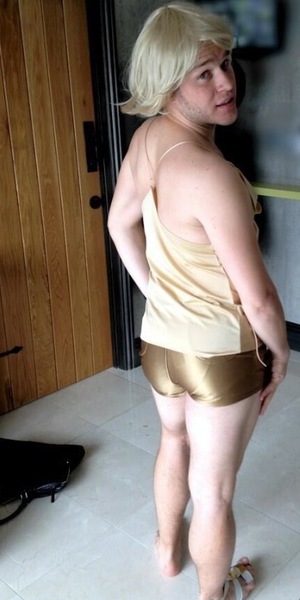 Olly Murs has thanked Robbie Williams for letting him perform the duet 'Kids' on tour - by dressing up as Kylie Minogue!
Olly has been supporting Robbie on tour since June and it appears he couldn't think of any better way to show his appreciation for the huge gig.
Not only did Olly don Kylie's famous gold hot pants, he teamed them with a strappy ladies' top, white sandals and a blonde wig.
Posing for a funny picture while wearing the getup, Olly turned his back to the camera to show off his behind before glancing over his shoulder.
He then posted it on Twitter, adding: "It's been emotional @robbiewilliams thanks for letting me support you on tour & being your KYLIE night after night x"
Robbie and Kylie stormed the charts with 'Kids' in October 2000 and Olly couldn't believe his luck when he was allowed to sing the duet with the former Take That star.
Speaking shortly after the tour kicked off, Olly told the
Daily Star
: "Robbie actually asked me what song I wanted to do with him live. I mean – he asked me.
"I didn't want to pick a song that he might do near the end of the set because that's Robbie's moment, so I asked about 'Candy' but in the end we decided 'Kids' was best. It's great to be Kylie."
Check out the original video for 'Kids' featuring Robbie and Kylie below: