Khloe and Kourtney Kardashian looked like they didn't have a care in the world yesterday, as they struck a couple of poses on top of their cars while wearing matching outfits.
The reality TV stars uploaded candid snaps to their Instagram pages on Tuesday (20 August), showing them both standing on top of their black and white Mercedes Benz SUVs and sporting similar checked shirts with identical Timberland boots.
Kourtney, 34, captioned one of her pictures: "I ain't worried about nothin'! As long as I'm with @khloekardashian", while Khloe wrote the same message alongside the photo on her account.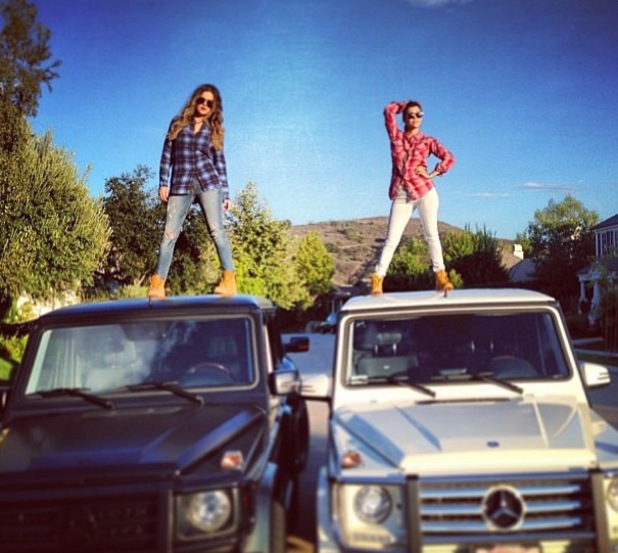 Although the caption is in fact a reference to popular rap song 'Ain't Worried About Nothin' by French Montana, it seems like the girls are also implying that they are unfazed by recent rumours that have rocked their personal lives.
Earlier this month, Kourtney was
forced to prove boyfriend Scott Disick is the father of her son Mason with a DNA test
, following claims made by male model Michael Girgenti, who alleged he was Mason's biological dad.
A DNA test came back in Scott's favour.
And while her rough patch might now be over, sister Khloe has been hit with reports that husband Lamar Odom has been unfaithful.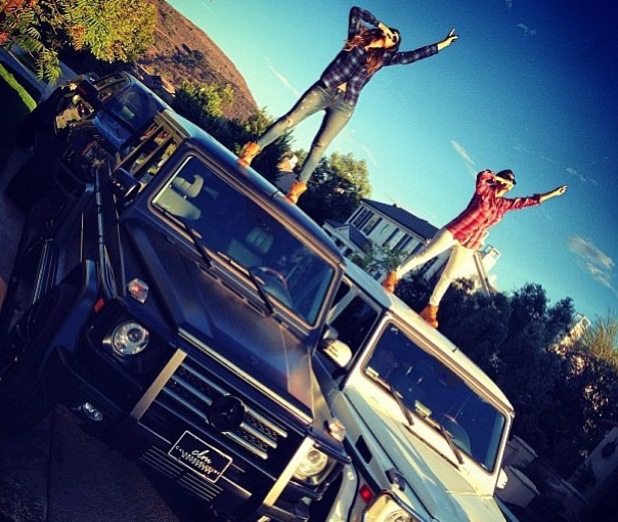 Basketball player Lamar has allegedly been unfaithful to Khloe, 29, on more than one occasion and two women - including stripper Jennifer Richardson - have come forward to talk about the time they allegedly spent with the athlete.
Although Khloe was quick to rubbish claims made by Jennifer, she has so far kept silent following the latest allegations from lawyer Polina Polonsky, who alleges she had a six-week fling with Lamar.
Both Khloe and Kourtney are certainly proving to be tough cookies during these difficult months - and these pictures might be their way of hitting back at the rumour mill.
What do you think of Khloe and Kourtney's laid-back style in these photos? Let us know in the comment box below!