Katy Perry and Rihanna cuddled up to each other last night while hanging out in New York.
Rihanna went to support Katy at her
Prism
album pre-release party and the old friends looked happy to be back in each other's company on Monday night (12 August).
The 'Umbrella' signer posted a black and white photo of the pair to Instagram and in her words, the two BFFs have "RIHunited".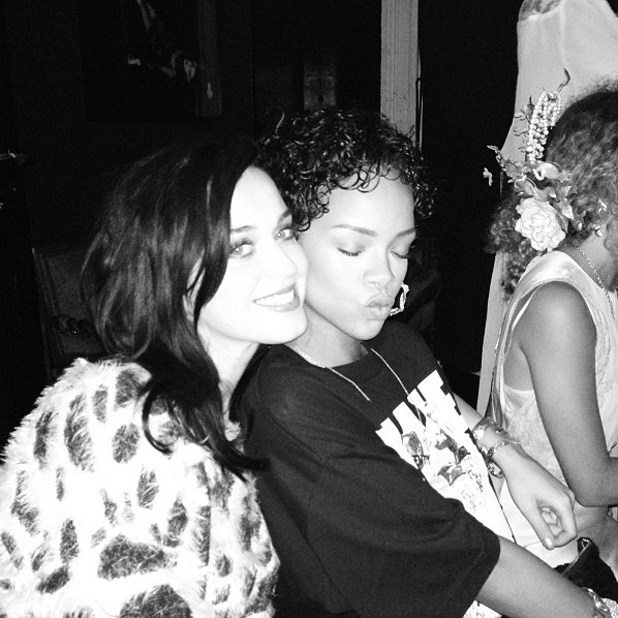 Rihanna kept her eyes closed but pouted for the camera as she sat on Katy's knee. Meanwhile Katy beamed in an animal print jumper. Rihanna, 25, captioned the photo: "She. X She. #KatyAnna #RIHunited."
It was a much needed catch-up for the superstar pals who have had to contest with their jam-packed work schedules.
Rihanna has just taken a break from her mammoth 'Diamonds World Tour' and
enjoyed plenty of sun, sea and sand in her hometown of Barbados last week.
Meanwhile Katy has been busy working on her forthcoming studio album
Prism
and new single, 'Roar'.
The two friends haven't been seen in public together since the MTV Music Awards last September, and at the time time, reports suggested that they had drifted apart over Rihanna's ex Chris Brown, but this photo only proves that they're still the best of friends.
More recently,
Katy opened up about her close friendship with Rihanna last month,
when she said: "I love her (Rihanna) and every time I see her, I'm reminded of the light that she has."
Katy, who had spent the day promoting 'Roar', tweeted at the end of the night: "Having a much deserved cheers after a long day. I'm lifting my glass to ALL of you, couldn't have done it without you. CHEERS TO YOU #ROAR."
Watch Katy's lyric video for 'Roar' below: