In just a week's time, Beyoncé will be touching down in the UK for her headlining slot at Virgin Media's V Festival 2013. Very, very exciting, we know! Thousands of festival-goers will pack themselves into Hylands Park, Chelmsford on Saturday, 17 August and Weston Park, Staffordshire on Sunday, 18 August to watch Queen B work her magic.
We know Bey already has putting on the perfect show down to a T (hello Super Bowl and 'Mrs Carter Show World Tour'!) but in case she needs any last-minute ideas on how to make it
really
special, here's what we're hoping for from the night:
A storming set!
Given Beyoncé's a-mazing back catalogue of tracks we highly doubt her set will be anything but storming. But with so many incredible songs we're just hoping each of our favourites makes the cut. We'll definitely be hoping for all the classic dance-heavy tracks like 'Single Ladies', 'Crazy In Love' and 'Check On It' with a good smattering of the power ballads like 'Halo' and 'Best Thing I Never Had'. And we want the full songs, please! No combining three smashers into one mini-medley!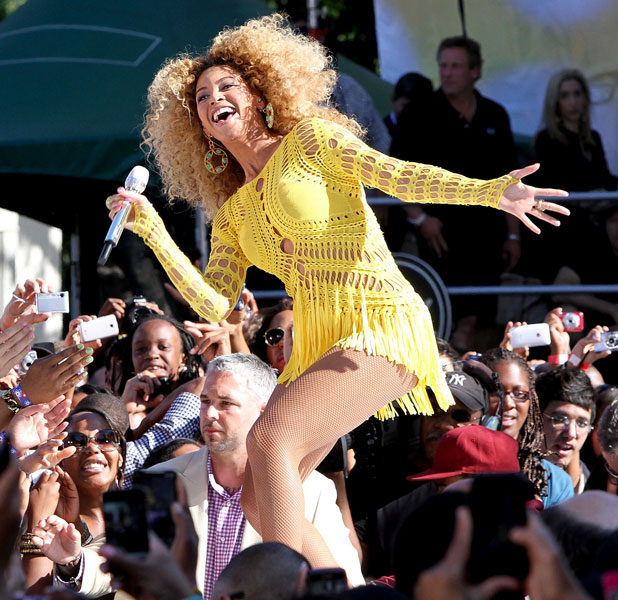 Destiny's Child reunion!
And speaking of fab back catalogues… please, please, please can she throw in at least one Destiny's Child track? Better still, fly over Kelly Rowland and Michelle Williams and do a
Super Bowl-esque mini-reunion
for us. We'll be keeping our fingers crossed for a mini-medley including 'Survivor', 'Bootylicious' and 'Independent Women'.
Jay-Z
We appreciate it might be tricky scheduling the Destiny's girls to appear but one superstar that might be easier to convince is hubby Jay-Z. He's already been popping up at dates on her 'The Mrs Carter Show World Tour' (well, she kind of named the tour in his honour so that seems only fair). Would a trip to Staffordshire and Chelmsford really be that much of a stretch?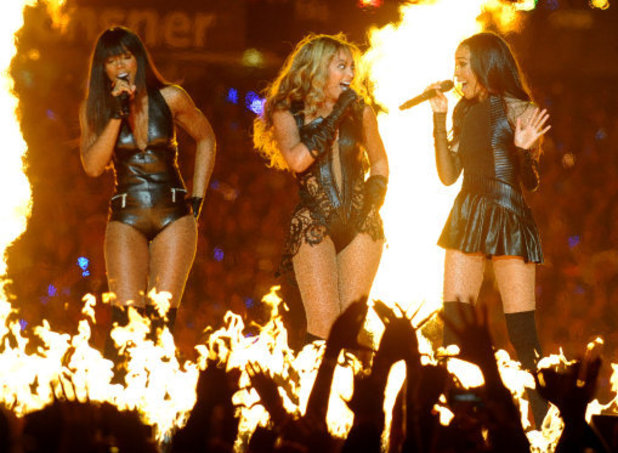 Blue Ivy
And if Jay-Z is coming then that must mean little Blue Ivy is somewhere in the wings. Rumours flew earlier this year that Bey had brought little Blue out during a concert in London when a toddler joined her on stage, although her rep later clarified that the child was not actually Blue. Could this be the perfect opportunity for Blue to make her stage debut? Facing thousands could be pretty daunting, though, so we'd settle for a new picture or cute video.
The hair
Beyoncé recently shocked us all by
chopping off her luscious locks in favour of an on-trend pixie cut
. So far we've only seen a few Tumblr pictures of her new look so we'll definitely be interested to see how she wears it on stage. Will she keep her blonde colour? Go edgy like Miley with a quiff? Stay elegant like Carey Mulligan and keep it slicked down? Or will she have ditched the crop altogether in favour of hair extensions or a wig by the time V rolls around? The possibilities are endless!
The costumes
Of course, we're majorly excited about what she'll wear. She's showcased a mammoth array of sparkling and sexy costumes on her recent world tour,
including one bodysuit featuring fake nipples
which apparently needed 30,000 crystals and more than 600 hours to create. Wow. Will she go as OTT for V or keep it relaxed on the outfit front? Traditionally artists only wear the one outfit on stage during a festival performance but we wouldn't be surprised if Bey broke the rules.
'I Was Here'
We have to admit here at
Reveal
we have a bit of a soft spot for Bey's album track 'I Was Here', probably because of the rather amazing video she created for it during her concerts at the Roseland Ballroom in New York. Documenting her rise from a child in Texas to talent shows, Destiny's Child and then global success, it never fails to make us tear up. She even gives a blink-and-you'll-miss-it look at her wedding gown. How amazing if she gave us an updated version to include little Blue's arrival?
Watch (and cry) at Bey's 'I Was Here' below:
Lady Gaga
Another of our Beyoncé faves is the oh-so-fabulous 'Telephone' featuring the oh-so-equally-fabulous Lady Gaga. Is it way, way too much to ask for Gaga to jump on a plane and head to our shores for a little duet? After all, Gaga's back in the public eye now as she
promotes her upcoming album ARTPOP
. We'll file this under the folder 'probably never going to happen in a million years but we'll keep our fingers crossed'.
The Saturdays
If Lady Gaga is too out there how about The Saturdays on stage? Yes, really, hear us out!
Rochelle Humes is known to be a massive Beyoncé fan
(who can forget that Mexican wave at Bey's concert earlier this year?!), even going as far as calling the superstar her "idol". If Bey can't get Destiny's Child over for a few classic hits maybe she could recruit The Saturdays to step in? After all, they'll be performing on the main stage, too. It's an out there idea, we admit, but one we reckon could probably work!
No rain
Okay, so we know that powerful as Queen B is even she can't control the weather. But please Mother Nature - let us have a nice balmy summer night!
Details and full lineup for Virgin Media's V Festival, taking place 17 and 18 August in Staffordshire and Chelmsford, are available
here
.