Lindsay Lohan looks happy and healthy as she's scooped up by basketball star Shaquille O'Neal in a new picture.
The
Mean Girls
actress, who recently left rehab, flashes a beaming smile in the snap, posted to her Twitter account on Friday morning (9 August).
She added the caption: "This just happened right now! ‪@SHAQ ‪#shaqattack love! Such a gentleman ;) What a gift after a good cycle!"
How the two met isn't clear but it's good to see Lindsay in such high spirits after a difficult year.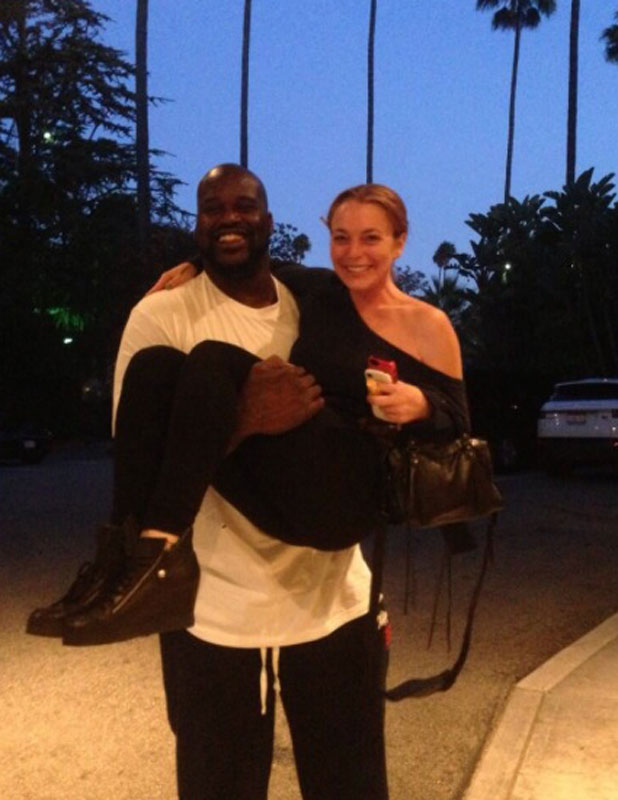 The 27-year-old
finished a court-ordered 90-day stay at the end of July
, that she was sentenced to complete following a plea deal stemming from a car crash last year.
Lindsay's thrown herself back into work since,
guest hosting an episode of E! show Chelsea Lately
and filming an
in-depth interview with Oprah Winfrey
.
And aside from posting the picture of Shaq yesterday, the star also diffused rumours of a rehab bust-up with Chaka Khan that surfaced online this week.
Lindsay tweeted at Chaka: "Sending you love and hugs! Xo"
Chaka replied: "Ain't Nobody" gonna tear out love apart....I love you more sweetie!"