Vanessa Hudgens is giving fans a glimpse of what she gets up to with BFF Ashley Tisdale in a new TV special that includes 'twerking' and conversations about kissing girls!
The two actresses will be starring in an E! Entertainment special this week called
Vanessa & Ashley: Inner Circle
and have allowed a camera crew to accompany them around Los Angeles, as they hit the dance studio, ride around in their cars and gossip about boys.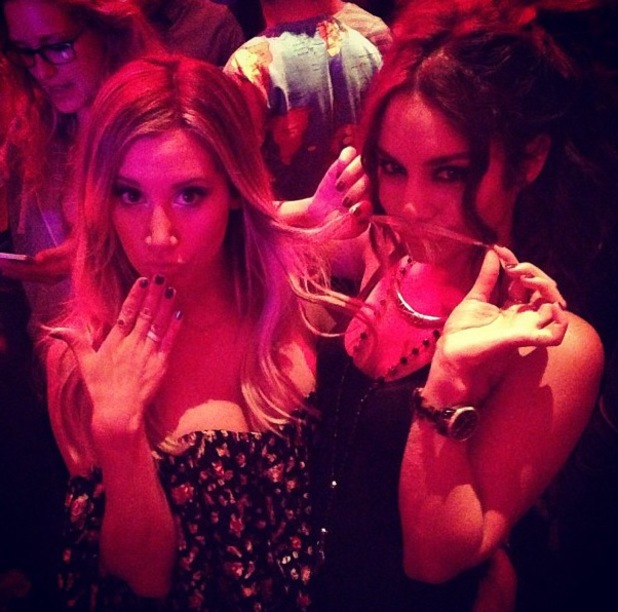 In a new promotional clip, 24-year-old Vanessa is seen partaking in the dance craze of the moment, 'twerking', and also admitting to Ashley that she would prefer to lock lips with a girl rather than a guy!
During a sit-down together, Ashley grills her pal on her on-screen kiss with actor James Franco in the
Spring Breakers
film and the pair also discuss a number of other juicy subjects, such as Vanessa's first time trying out a stripper pole.
The voice over explains: "When your best friend is asking the questions, she's going to get a real answer."
Watch a trailer for the show here:
However, it isn't just Vanessa that will be opening up, as Ashley is set to reveal her fair share of secrets too while hanging out with her bestie.
The Hollywood starlets have been close ever since they starred in
High School Musical
together, so this E! special is certain to be packed full of laughs and fun stories.
Vanessa & Ashley: Inner Circle is set to air on E! in the US at 10pm on 8 August. We'll be keeping an eye on the UK listings for an air date over here!
Will you be tuning into Vanessa & Ashley: Inner Circle? Let us know below, as the best comment each week wins £50!