Lindsay Lohan poked fun at Kristen Stewart during her guest hosting stint on Chelsea Lately last night.
The
Mean Girls
actress generated laughs by referencing
Twilight
star
K-Stew's recent run-in with the paparazzi
, where she told them they weren't fit to breathe the same air as she does.
Lindsay joked: "I'm just excited that Kristen Stewart finally showed some emotion!"
But showing she was only joking, the actress added: "I do really like her. She is awesome. I love her. I'm a Kristen Stewart fan…"
Lindsay then cheekily added a reference to
Kristen's affair with married filmmaker Rupert Sanders
last year, saying: "But of course she hates photographers. They got a picture of her kissing a married man in a Mini Cooper."
Yikes. But Kristen wasn't the only star to get a ribbing on
Chelsea Lately
. One Direction's Harry Styles was also a subject of discussion following that interview where he was questioned about his sexuality… but Lindsay actually turned the punch line back on herself.
"Harry was questioned by the interviewer about rumours he is bisexual with a DJ named Nick," said Lindsay. "I've been there…"
Her comment, which referenced her past relationship with DJ Samantha Ronson, drew huge laughs from the panel and the audience.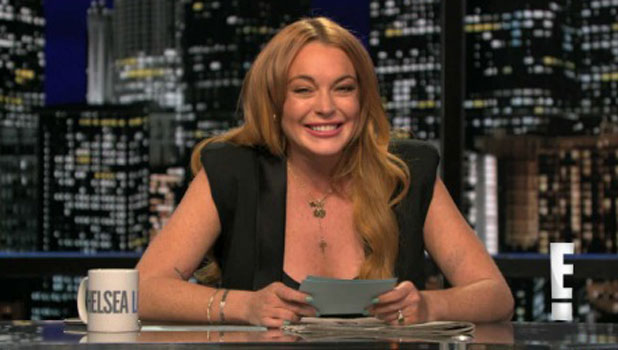 Lindsay's appearance on
Chelsea Lately
marked her first professional assignment
since leaving a court-ordered 90-day stay in rehab
.
Next up will be a no-holds-barred interview with Oprah Winfrey delving into the issues in Lindsay's personal life that led to rehab.
Watch a clip of Lindsay on
Chelsea Lately
below:
Kim Kardashian, Tulisa, Lea Michele: weekend's headlines in pictures
Copyright: Twitter