Rihanna has today won a legal battle with Topshop after the chain began selling T-shirts bearing her image.
Rihanna
, 25, took action against the retailer's parent company Arcadia after Topshop produced the item, which featured a photograh of herself taken during the 2011 video shoot for 'We Found Love'.
The star sued under her real name, Robyn Rihanna Fenty, and argued that the T-shirt could have damaged her reputation, as fans might have assumed it was a genuine piece of merchandise.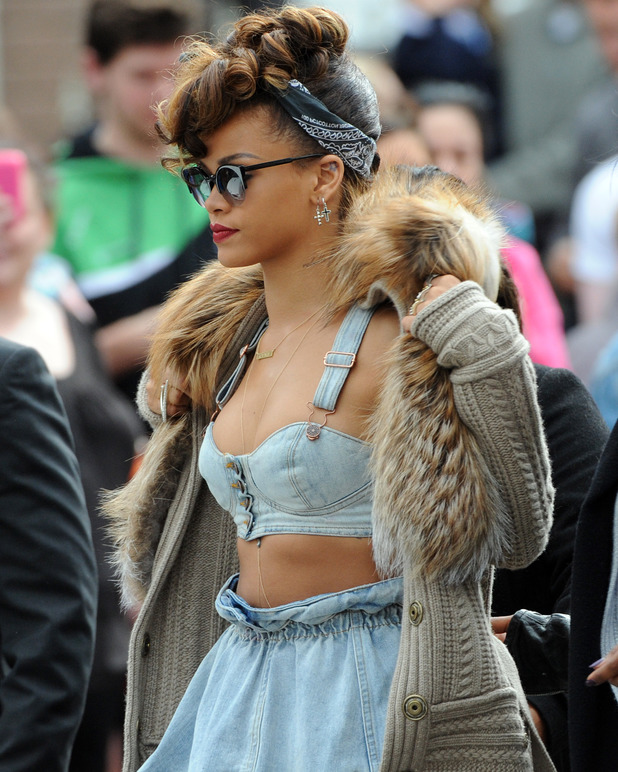 The image on the sleeveless top showed Rihanna with her hair tied up in a scarf while wearing a denim bra top. She argued that it looked "very similar" to a picture featured on CD covers for one of her albums and that it was taken without her permission.
Justice Birss, sitting at London's High Court, said Topshop's sale of the Rihanna T-shirt was an act of "passing off".
He added: "A substantial number of purchasers are likely to (have been) deceived into buying (the) T-shirt because of a false belief that it has been authorised by Rihanna."
Justice Birss also said it was damaging to her "goodwill" and represented a loss of control over her reputation in the "fashion sphere".
Lawyers for Topshop disputed Rihanna's claim and insisted the brand did nothing wrong.
Court documents claimed that Topshop did drop Rihanna's name from the T-shirt after being challenged by her lawyers. They instead referred to it as 'Headscarf Girl Tank' and then 'Icon Tank'.
Rihanna had claimed she was entitled to £3.3 million in damages, however the judge did not make any assessment of damages in a written judgment published.
The pop star, who is currently on a six week break from her 'Diamonds' world tour was not in court today.
In a statement, Topshop said it was "surprised, disappointed and perplexed" by the High Court ruling, adding: "There was no intention to create an appearance of an endorsement or promotion.
"We feel that the fact that Rihanna has shopped, worn and had a relationship with Topshop for several years appears to have been detrimental to our case."