Mel B proved to be a multitasking mum on a mission by putting her daughters Angel and Madison in the shopping trolley while out at the supermarket.
The former Spice Girl posted a super cute picture of her tiny girls on Instagram, which showed them sat in a bright red Target shopping trolley alongside Mel's fluffy pet pooch. Aww!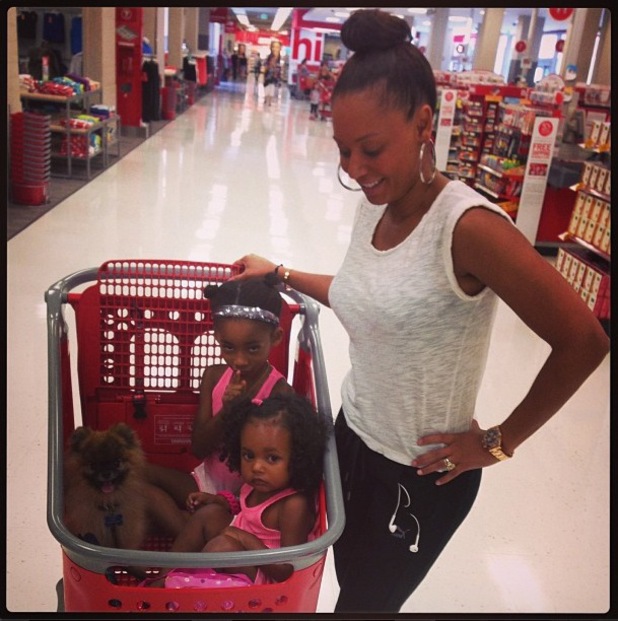 Mel, 38, kept her outfit casual for the day and dressed simply in a white sleeveless top and jogging bottoms, while Angel and Madison appeared to be sporting matching pink frocks.
Six-year-old Angel can be seen posing intensely for the camera, while one-year-old Madison looked a little distracted crouched next to her sister.
Mel captioned the photo: "So far this is all I bought at Target, ummm 2 kids and a small dog, ok I think I'm done right??"
Despite her hectic work schedule, which includes a judging role on
America's Got Talent
and even
co-hosting the Today show yesterday
(22 July), Mel has still made sure to spend quality time with her daughters.
Last week, the feisty TV star took Angel and Madison to Disneyland and admitted that the exciting and fun-filled trip had worn her out.
Mel wrote online: "Had to do it AGAIN, the happiest place on earth, yes the girls went to Disneyland yesterday and boy did we have fun. Tip for mums dress your kids alike it's easy to find them in a crowd. My feet hurt, my back hurts, my whole body hurts, best cardio ever walking around Disneyland yipppeee."
Mel also has a 14-year-old daughter, Phoenix, although it seems she might have outgrown Disney since she didn't appear to accompany her family this time!
What do you think of dressing your children in matching outfits? Are you a fan? Let us know below.