Beyoncé has joked about her hair mishap last night (22 July) after it got caught in the blades of a fan during her concert in Montreal, Canada.
The 31-year-old was serenading fans with her hit ballad 'Halo' and suffered a real-life emergency when her locks got tangled in the fan, which was mounted on the stage.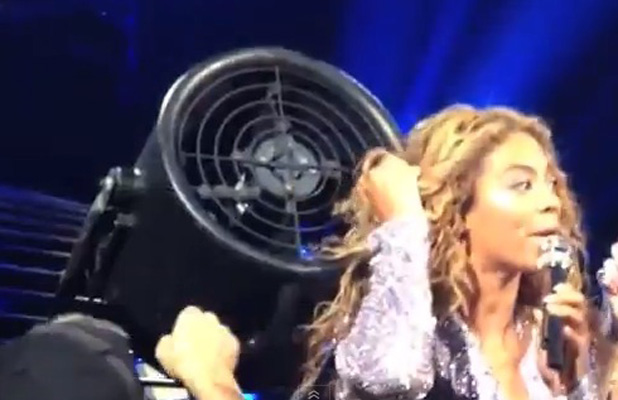 Ever the professional and proving that the show must always go on,
Beyoncé
, who was standing in the audience pit, continued to sing while security nearby attempted to set her free.
Following the ordeal, Queen B made light of the situation and reworked the lyrics to 'Halo' by penning a handwritten verse which she posted to Instagram.
The 'Crazy In Love' singer, who is currently on the North American leg of her
Mrs Carter Show world tour
, said: "Gravity can't begin, to pull me out of the fan again. I felt my hair was yankin, from the fan that's always hatin."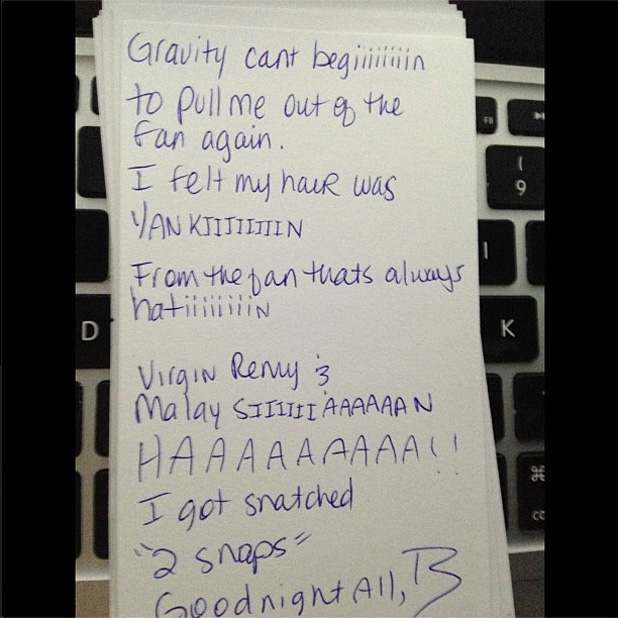 Beyoncé, who is married to superstar rapper Jay-Z, also posted a video of the incident, which has since gone viral on the social network.
Beyoncé's mammoth world tour, which kicked off in April in Belgrade, Serbia, runs until December. She'll be returning to the
UK next month where she'll be headlining at the V Festival.
Watch the incident below: