The Duchess of Cambridge, Kate Middleton, and her husband Prince William have left hospital with their newborn baby son, giving us a glimpse of the future king for the first time.
Kate, 31, gave birth to the third-in-line to the throne at 4.24pm at the private Lindo Wing at St. Mary's Hospital
in Paddington, London on Monday, 22 July.
He weighed 8lbs 6oz but a name has not been announced yet.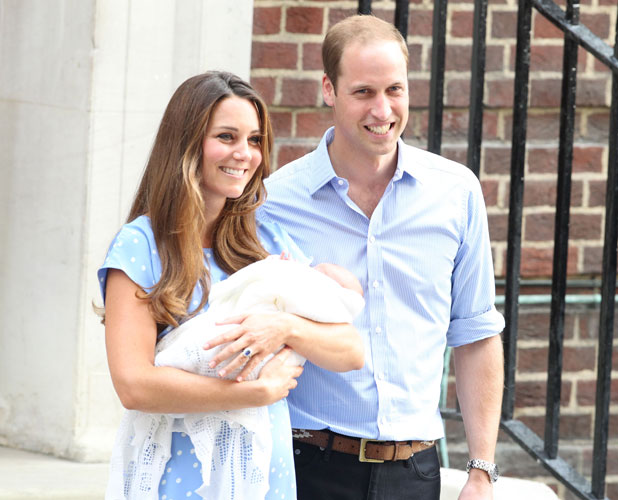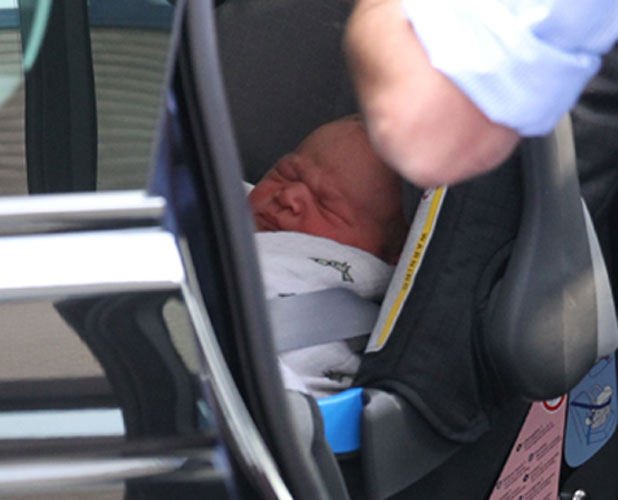 Kate and William emerged from the hospital to the glare of cameras from around the world just after 7pm on Tuesday, 23 July, as reporters from all across the globe scrambled to get that first look at the Prince of Cambridge.
The Duke and Duchess posed for photographs and answered a few questions. They then retreated into the hospital to place their son in a carseat, as required by law, before emerging again. William then placed the baby's carseat safely in the car before driving his newborn child and wife home to Kensington Palace.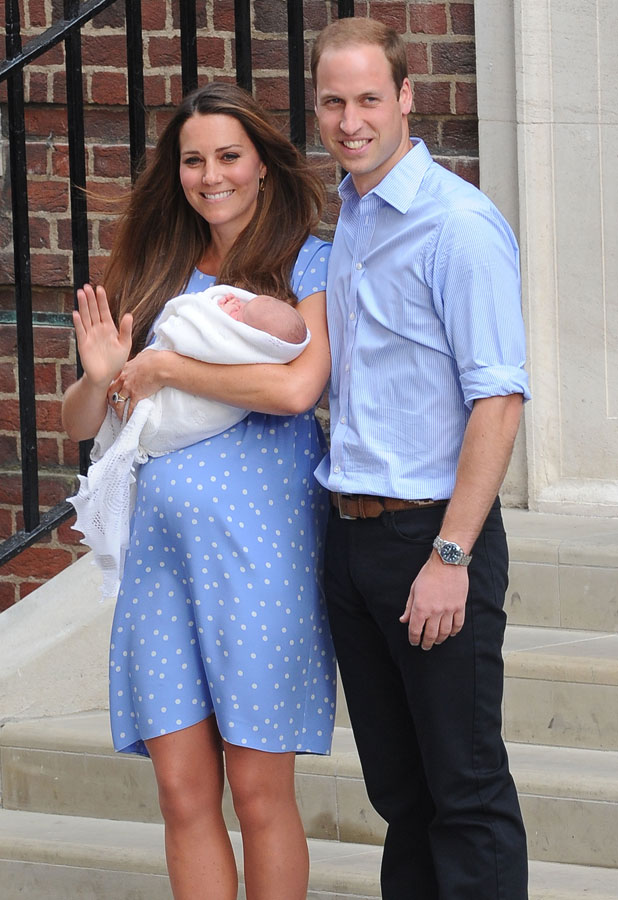 William joked with reporters that the baby has a "good pair of lungs" and confirmed there was no name yet: "We're still working on that, we'll have it when we can."
Kate added that this is a special time for them both, as it is for any new parents.
As for who the baby takes after in terms of looks, William insisted it was all Kate.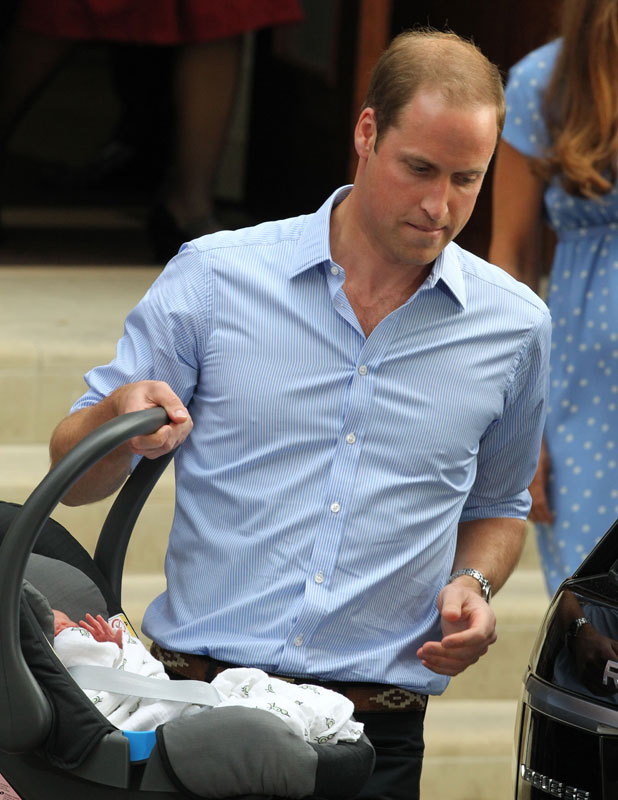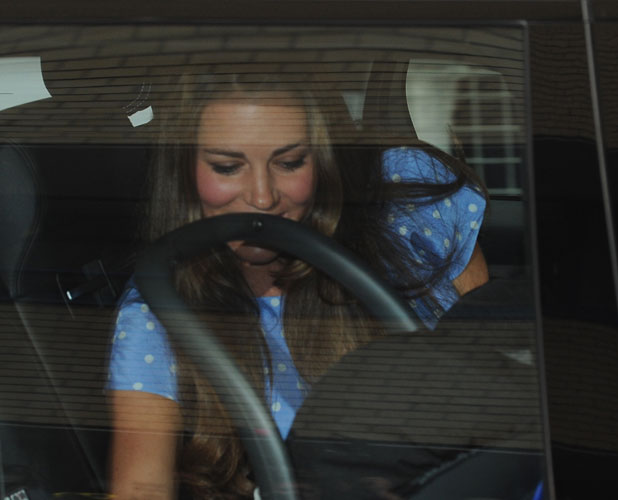 William also joked that he would remind the young prince of his late arrival when he is older, and would point out just how long the media and world had waited for news of his birth!
As well as giving us a look at the royal prince, this was also our first look at the Duchess since her last public engagement in June, when she attended the Trooping the Colour ceremony at Buckingham Palace to celebrate the Queen's birthday.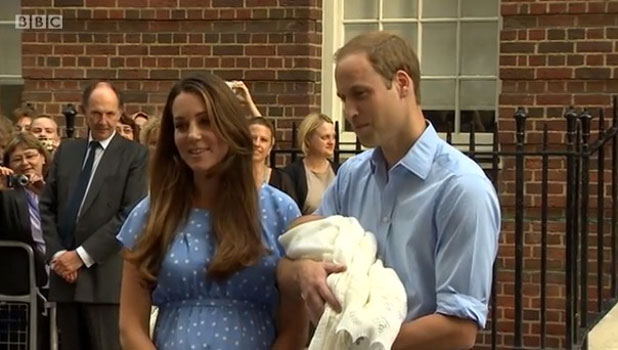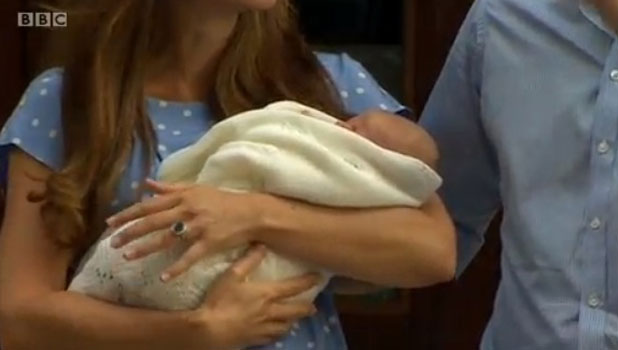 Speculation that the couple were preparing to leave hospital today heightened when Kate's hairdresser was seen arriving at the hospital just around 10am.
A visiting Prince Charles also sparked speculation they would be leaving by telling reporters outside they'd see the royal baby "in just a minute".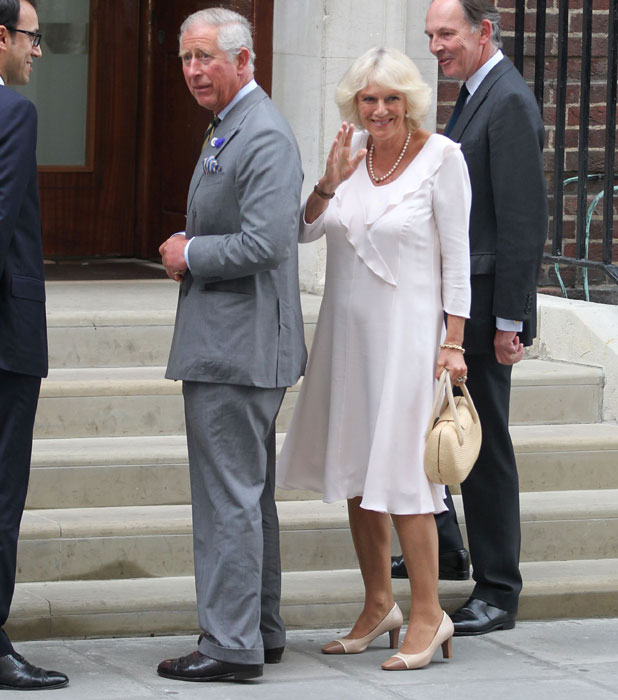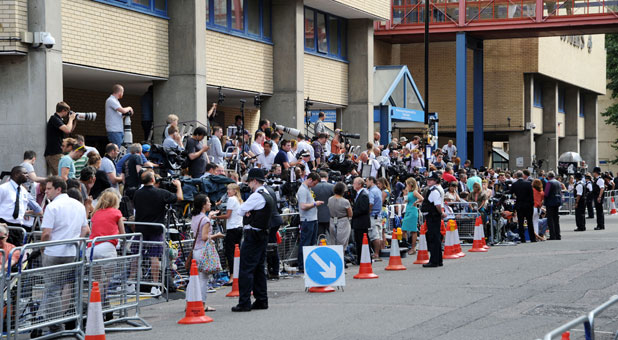 At around 6.30pm, the palace issued a statement confirming their departure was imminent.
"Her Royal Highness the Duchess of Cambridge will be discharged this evening from St Mary's Hospital, Paddington. The Duke and Duchess of Cambridge and their son will travel home to Kensington Palace. Their Royal Highnesses would like to reiterate their thanks to the hospital for the care and treatment they have all received."
Hospital staff lined the pavement outside St. Mary's to wish them well - and give the royals another chance to thank staff for their care.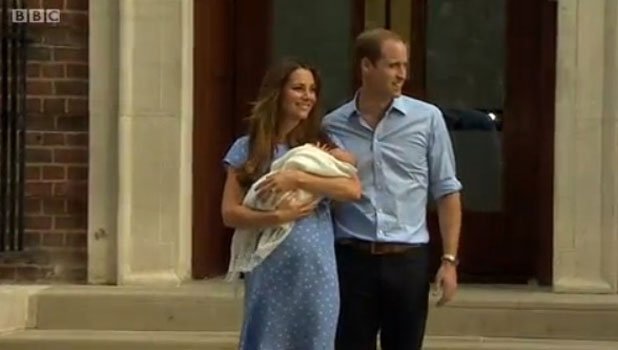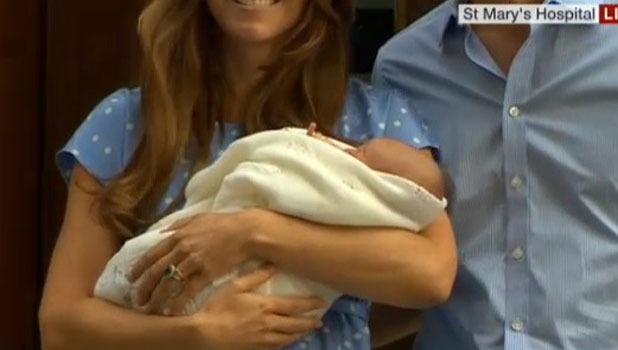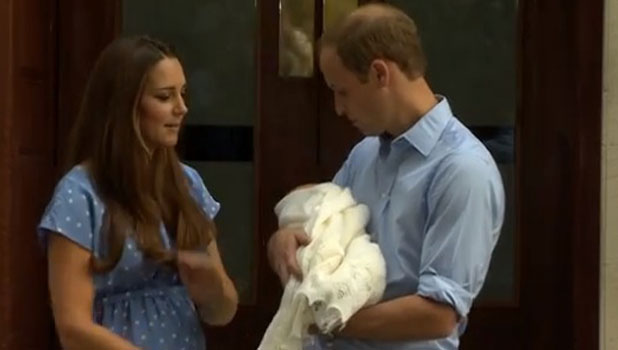 Their exit had been scheduled for around 7.05pm, according to reports, but they emerged a little later than that as the hospital staff were reportedly presenting them with a traditional scroll to mark the birth.
Their departure came a few hours after visits from
Kate's parents Carole and Michael Middleton
and later,
Prince William's father Prince Charles and Camilla, the Duchess of Cornwall
.
The birth was announced on Monday evening via press release after Buckingham Palace dramatically switched their plans at the last minute. Just after 8pm yesterday evening, the palace revealed they'd issue a press release before the official birth announcement was taken to Buckingham Palace.
No reason was given for the switch but some commentators suggested it was to minimise news of the royal birth being leaked before the official easel announcement.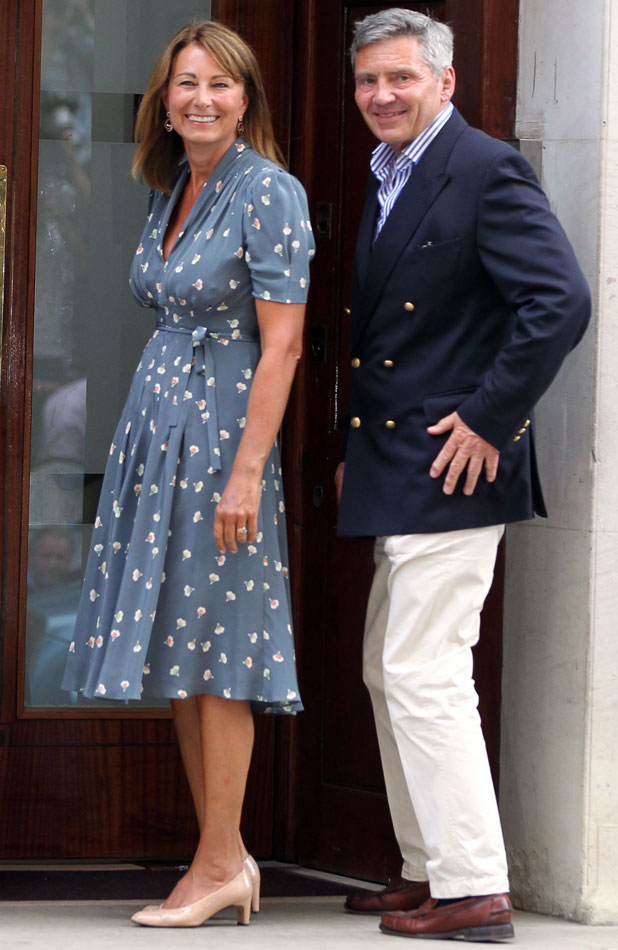 Traditionally a royal birth is announced in the following way: the medical staff sign an official birth announcement that is taken by a royal aide - via police escort - to Buckingham Palace where it is attached to an easel for the public to see.
This did happen last night, but not until after the press release had been issued.
Clarence House has said the easel will remain in place for 24 hours, and
hundreds of well-wishers have been queuing at the palace this morning
hoping to get a look at the historic notice.
The birth was also confirmed via the official Clarence House Twitter feed.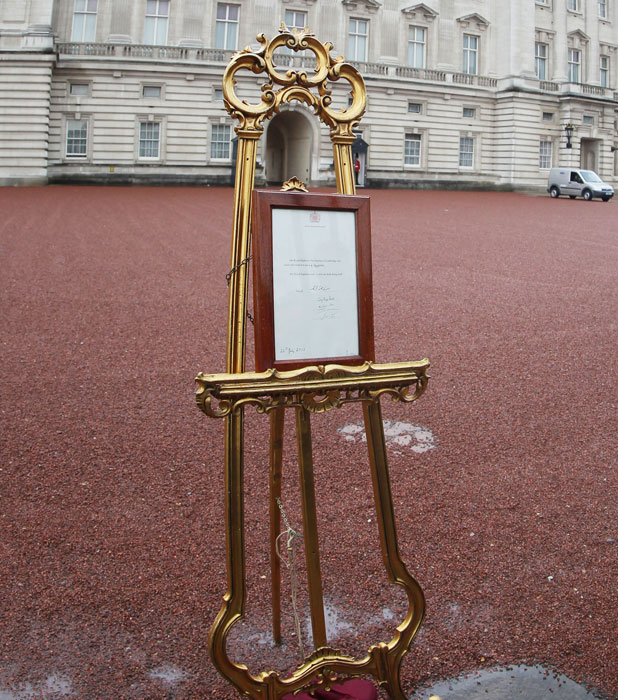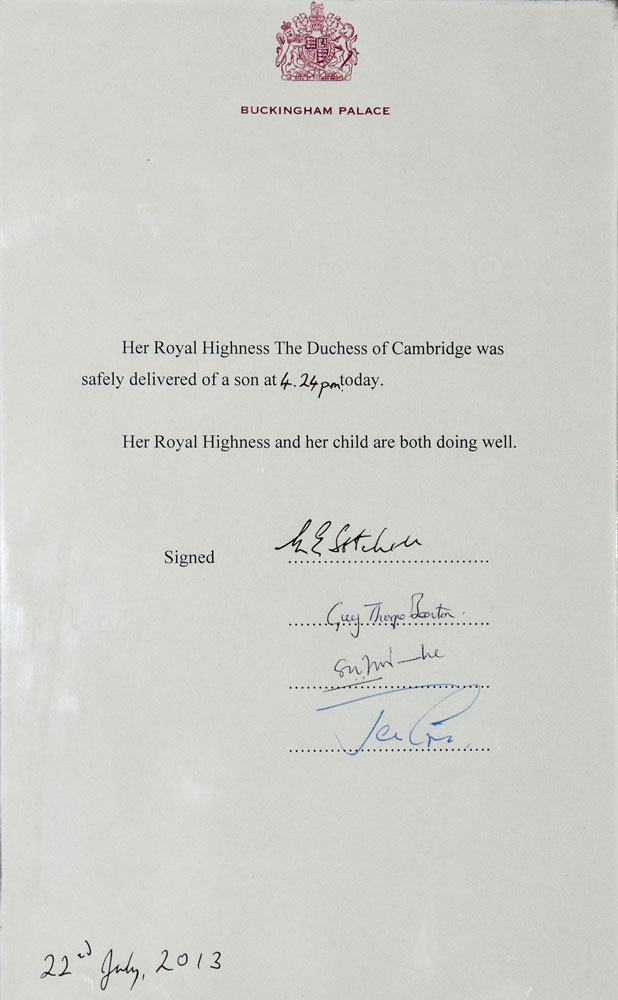 In a brief statement last night, Prince William - who was by Kate's side during the birth - said the couple "couldn't be happier" about their new arrival.
In a statement this morning
, the couple said: "We would like to thank staff at the Lindo Wing and the whole hospital for the tremendous care the three of us have received.
"We know it's been a very, very busy period for the hospital and would like to thank everyone - the staff, patients and visitors - for their understanding at this time."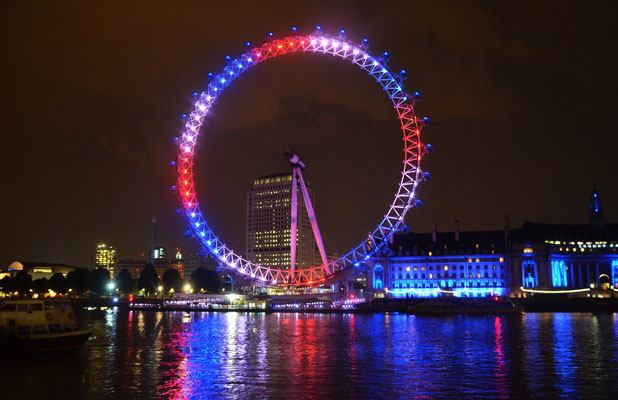 William's father
Prince Charles issued a statement on the royal birth
yesterday evening on behalf of himself and Camilla, saying: "Both my wife and I are overjoyed at the arrival of my first grandchild. It is an incredibly special moment for William and Catherine and we are so thrilled for them on the birth of their baby boy.
"Grandparenthood is a unique moment in anyone's life, as countless kind people have told me in recent months, so I am enormously proud and happy to be a grandfather for the first time and we are eagerly looking forward to seeing the baby in the near future."
William is expected to take two weeks' paid paternity leave from his job as an RAF search and rescue pilot, while St. James' Palace has said Kate's maternity leave is a private matter.
Although the couple will return to Kensington Palace tonight, it has been suggested they could then retreat from the limelight to Kate's parents' home in Bucklebury, Berkshire.
The
Queen and Prince Phillip have also issued a very brief statement
, saying they are "delighted" by the arrival.
The birth was marked today by gun salutes and the ringing of Westminster's bells.
Celebrities celebrate the royal birth: pictures
Copyright: Dave Bedrosian/Future Image/WENN.com