The Queen has said she is "delighted" by news that Kate Middleton has given birth to a baby boy.
The
Duchess of Cambridge welcomed her first son
at 4.24pm this afternoon (Monday, 22 July) with husband Prince William by her side.
The new arrival weighed 8lbs 6oz. A name has not been revealed yet.
In a short statement, the palace said: "The Queen and Prince Philip are delighted at the news of the birth of The Duke and Duchess of Cambridge's baby."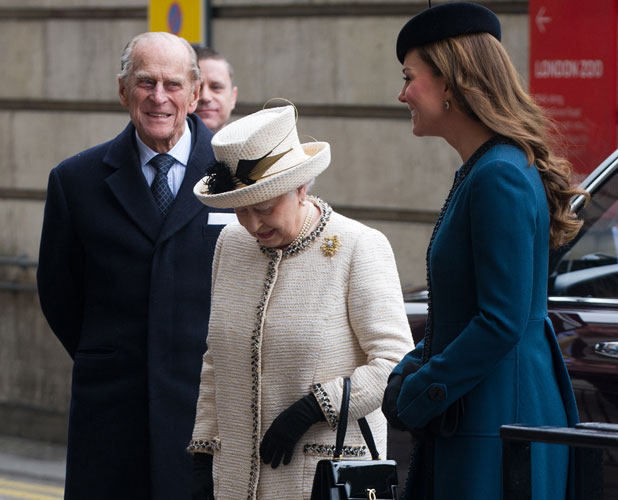 Kate, 31, delivered the third-in-line to the throne at the private Lindo Wing at St. Mary's Hospital in London; the same hospital where Prince William was born.
William's father Prince Charles has also issued a statement
this evening, saying: "Both my wife and I are overjoyed at the arrival of my first grandchild. It is an incredibly special moment for William and Catherine and we are so thrilled for them on the birth of their baby boy.
"Grandparenthood is a unique moment in anyone's life, as countless kind people have told me in recent months, so I am enormously proud and happy to be a grandfather for the first time and we are eagerly looking forward to seeing the baby in the near future."
Kate will remain in hospital overnight.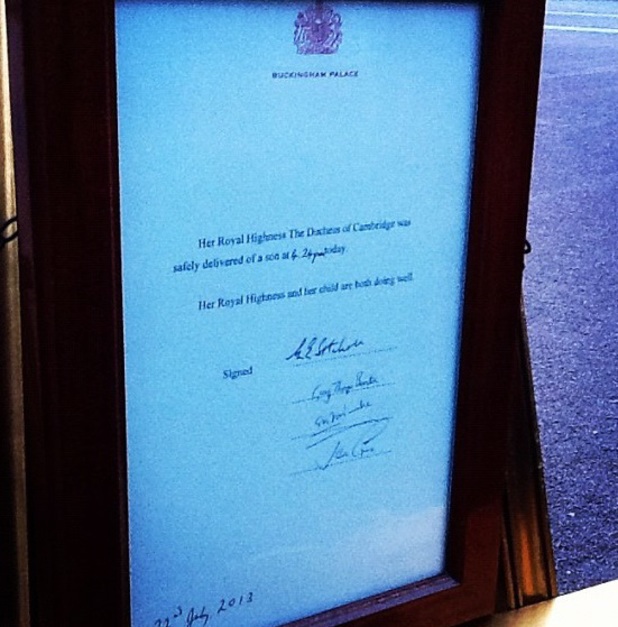 The birth was announced via press release after Buckingham Palace dramatically switched their plans at the last minute. Just after 8pm this evening, the palace revealed they'd issue a press release before the official birth announcement was taken to Buckingham Palace.
After the press release, an aide was seen bringing the official notice - signed by medics and declaring the baby's sex and time of birth - to Buckingham Palace, where it is currently being displayed on an easel.
The news of the birth was also revealed in a series of tweets posted to the Clarence House account: "Her Royal Highness The Duchess of Cambridge was safely delivered of a son at 4.24pm. The baby weighs 8lbs 6oz.
"The Duke of Cambridge was present for the birth. The Queen, The Duke of Edinburgh, The Prince of Wales, The Duchess of Cornwall, Prince Harry & families have been told and are delighted."
"Her Royal Highness and her child are both doing well and will remain in hospital overnight."
Kate arrived at the private Lindo Wing at around 6am this morning, accompanied by Prince William. A release from the palace at 7.30am said the Duchess was in the "early stages of labour". A further statement said Kate's labour was "progressing as normal".
It's believed the world will get its first glimpse at the royal arrival when Kate and William leave the hospital and pose for a traditional picture on the front steps.
Celebrities congratulate Kate on the birth of her child:
Copyright: Dave Bedrosian/Future Image/WENN.com