Yippee – the royal baby is nearly here! It hasn't all been plain sailing for Kate Middleton though. We take a look back at her last nine months…
A wobbly start
As soon as Kate wed Prince William on April 29, 2011 there was daily speculation she was pregnant. On November 28 last year, Prince William was handed a babygro saying 'Daddy's Little Pilot'. He accepted it, saying: "I'll keep that, thanks!" The speculation was correct as just five days later,
St James' Palace announced Kate was expecting a baby
. She was admitted to
London's King Edward VII hospital with acute morning sickness
, known as hyperemesis gravidarium, when the pregnancy was in its 'very early stages.' It wasn't the ideal start, and it's reported that the royals didn't know Kate was expecting until she was rushed into hospital.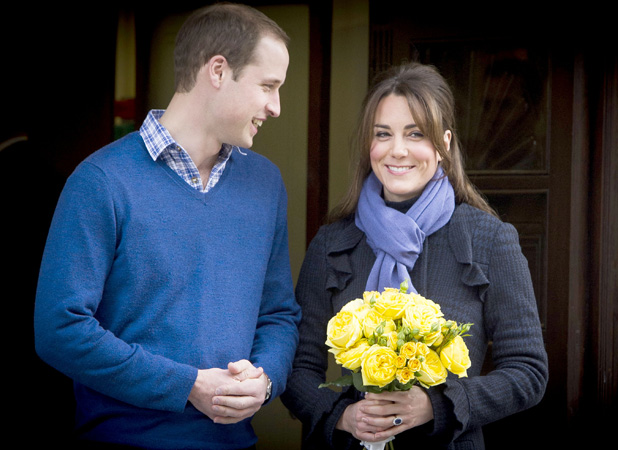 Three days later,
Kate looked pale and tired as she was discharged from hospital
. Waving at the crowd and giving a brief smile, she told journalists she was feeling 'much better, thanks.'
Scandals and shocks
As expected, there was a media frenzy when Kate's pregnancy was announced and everyone wanted to know the ins and outs. So much so that two presenters from a
radio station in Australia phoned the hospital pretending to be the Queen
in order to gain information about Kate's condition.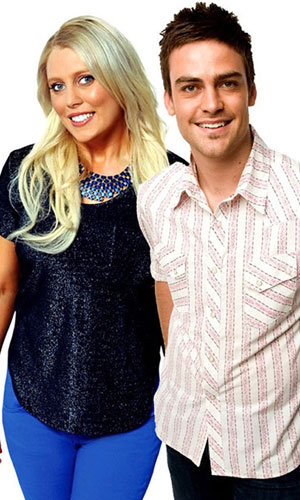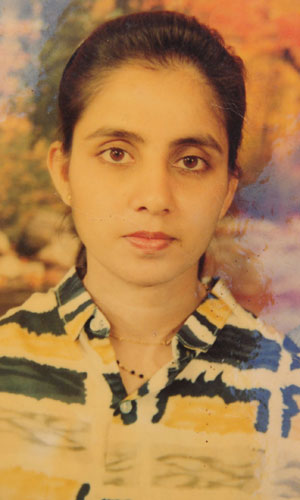 But the prank, by DJs Mel Greig and Michael Christian, backfired horrifically when Jacintha Saldanha, the nurse who put the call through, committed suicide.
The DJs were suspended pending enquiries. Palace officials confirmed that Kate and Wills hadn't made a complaint to the hospital and Kate was 'deeply saddened' by Jacintha's death.
Two months later, Kate faced a new drama as photos of her bare bump were published in the same Italian gossip magazine that printed pictures of her sunbathing topless in September. The royal family was said to be 'irate' over the 'clear breach of the couple's right to privacy,' and all British news outlets refused to publish the snaps.
Dressing the bump
The months that followed were easier for Kate and her only real worry was what to wear – which she got spot-on event after event. The nation tuned in to the
Sports Personality of the Year Awards
- her first public appearance since the pregnancy was announced - to see her glowing in a green Alexander McQueen dress with a thigh-high split. Her style was as demure and tailored as ever during her pregnancy and, as usual, she's mixed designer pieces with high street staples. When
Kate wore a black and white polka dot dress from Topshop (below)
, costing £36, it instantly sold out, as did a £17.50 ASOS dress she wore when out baby shopping.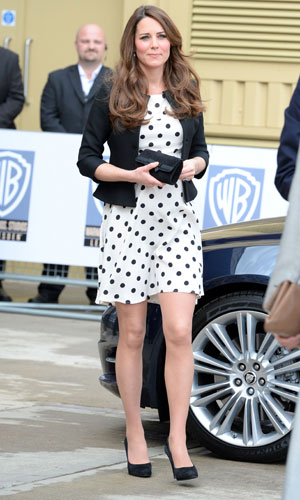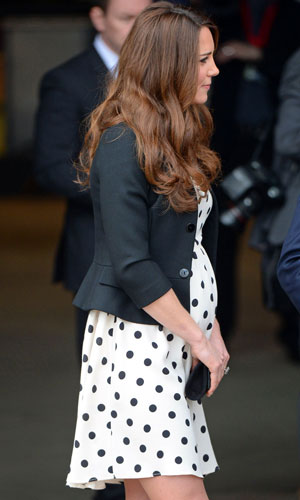 Kate, 31, was also on form as she recycled outfits, wearing the same pre-pregnancy tailored coats, but shifting the buttons to fit her bump.
KATE's PREGNANCY TIMELINE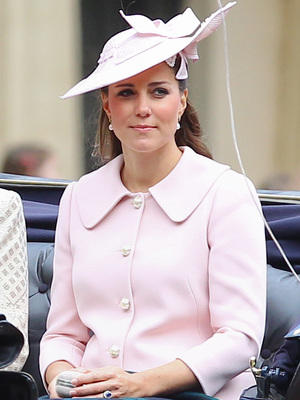 3 December
–
St James' Palace announce Kate's pregnancy
as she is taken to hospital with acute morning sickness.
5 December
–
Australian DJs call King Edward VII Hospital pretending to be the Queen
to get information. The prank backfires and the nurse who took the call commits suicide.
6 December
–
Kate is discharged from hospital
.
13 February
– Italian magazine Chi anger the Royals by
publishing pictures of Kate's bare bump
.
20 March
– A more relaxed
Kate laughs as she's given a Transport For London 'Baby on Board'
badge.
19 April
– Vanity Fair names her as number one on their list of top 10 best-dressed pregnant ladies.
25 April
– A landmark bill is passed which means that for the first time the Duke and Duchess's first child would become monarch regardless of gender.
13 June
– A glowing
Kate makes her final solo public appearance to christen the Royal Princess cruise ship
before taking maternity leave.
22 July
- The
palace confirms Kate has been admitted to the private Lindo Wing at St. Mary's Hospital
after going into labour. Prince William is by her side.
Kate Middleton's pregnancy in pictures - gallery!
Copyright: WENN