Lady Gaga generated plenty of headlines when she was seen strolling through New York in just her lacy bra top yesterday, but today's she hitting the news for her music instead.
The 'Born This Way' singer has given fans something to cheer about by announcing release dates for her album and brand new single.
Gaga announced last year that her
new album would be called ARTPOP
; a follow-up to
Fame
,
Fame Monster
and
Born This Way
.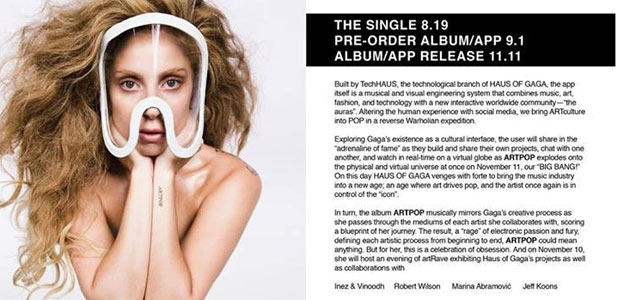 In an official Facebook announcement today (12 July), she confirmed
ARTPOP
will be released on 11 November. A statement said: "On this day HAUS OF GAGA venges with forte to bring the music industry into a new age; an age where art drives pop, and the artist once again is in control of the 'icon'."
We're a bit confused by what that means, too.
Gaga's release has described the album as a "rage of electronic passion and fury", which sounds rather intriguing.
The first as-yet-unnamed single from the album will arrive on 19 August, while on 1 September, a special app will also launch, apparently giving fans the chance to share "in the adrenaline of fame" through chats and real-time footage of
ARTPOP
's arrival.
Gaga will also host an evening of "artRAVE" in November.
Gaga's most bizarre outfits in pictures:
Copyright: Rex Features