Britney Spears has unveiled a teaser photo from the video for her brand new single 'Ooh La La'.
The 31-year-old pop star posted the picture to her Instagram account last night (9 July) and she can be seen sitting in the front row at the cinema with her sons Sean Preston and Jayden James.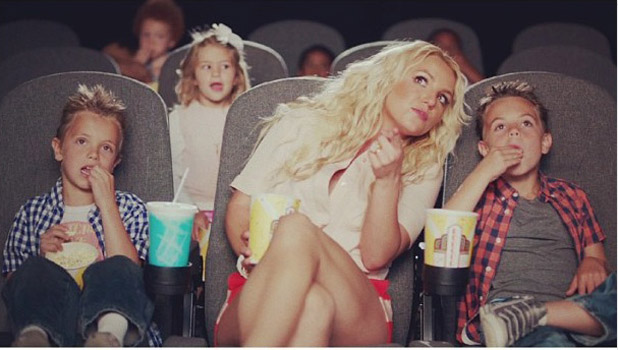 Britney, who is clutching a large drinking cup, is seen pointing at the screen while her sons munch on popcorn and other children look on behind them.
'Ooh La La' is taken from
The Smurfs 2 Soundtrack
and
Britney announced last month that Sean and Jayden would have starring roles in her video
.
The 'Toxic' singer also admitted that the only reason she decided to do the collaboration is because her boys are such massive fans of the comic book film. Taking to Twitter last night, proud mum Britney commented: "Omg. How CUTE are my boys?!"
The video will get a world premiere on Thursday 11 July. 'Ooh La La' will be released on 28 July and
The Smurfs 2 Soundtrack
will be released on 29 July.
The Smurfs 2
is set to hit cinemas later this summer.
Watch Britney Spears' lyric video for 'Ooh La La' below and tell us what you think!