Beyoncé has given us another sneak peek of baby Blue Ivy, as she recently posted a photo of herself and her daughter taking a stroll through the park.
Updating her Tumblr account with dozens of pictures from her 'Mrs Carter Show' concerts, as well as candid snaps of her fans and of husband Jay-Z,
Beyoncé
also included a glimpse into her life as a mother by uploading a sweet photo of herself and one-year-old Blue Ivy.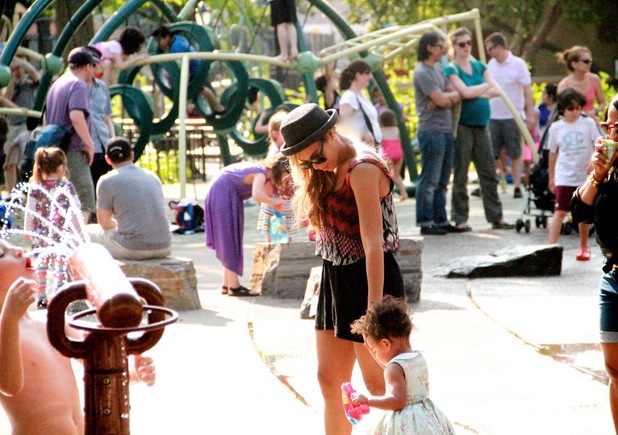 The photo is thought to have been taken on
a recent outing in which Beyoné was seen posing in a balloon hat
and indulging in some ice-cream.
Beyoncé can be seen wearing the same laid back outfit as she was in the pictures with the balloon hat, although this time she has an even better accessory: her daughter!
Blue Ivy his holding onto her superstar mum's hand while they walk through the park and past a water fountain. The tiny tot is sporting a pretty pastel coloured dress with pink flowers on it and appears to be clutching onto a little toy.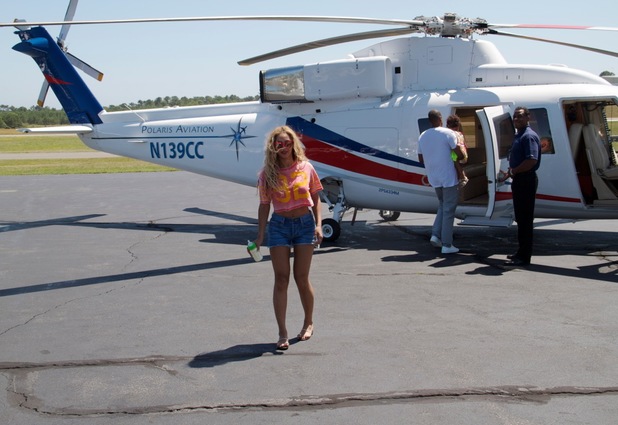 There also happens to be another photo of baby Blue included in Beyoncé's montage of shots from the past month, which this time sees her in the arms of rapper father Jay-Z as they board a private helicopter.
What an A-list life this youngster leads!
Meanwhile, Beyoncé is posing in the forefront of the snap and wearing a cropped red T-shirt with a pair of cut-off denim shorts, sandals and red sunglasses. Blue Ivy's milk bottle has even made it into the picture too!
Knowing what it's like to be parents with expensive taste, Beyoncé and Jay-Z recently
gifted Kim Kardashian and Kanye West with £5000 worth of goodies
for their newborn daughter, North West.
Maybe little North will be joining Blue Ivy at the park too when she's old enough to walk!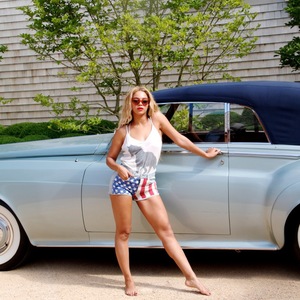 Among the snaps of Blue, Jay-Z and her 'Mrs Carter Show' tour, Queen B has added a couple of shots of herself celebrating the 4th of July in a patriotic outfit.
Leaning on a vintage car, the singer donned a pair of denim shorts with the American flag printed on them in celebration of the country's Independence Day over the weekend.
Does she have to be
so
cool all the time?!
What do you think of Beyoncé's off duty style in these photos? Let us know below!