Kourtney Kardashian and Scott Disick enjoyed a rare day off from parent duties over the weekend, as they relaxed at a pool party in Las Vegas.
The reality TV stars were spotted laughing, joking and spending some quality time together in Sin City on Saturday (6 July) without their two children, Mason and Penelope, who are almost always seen right by their side.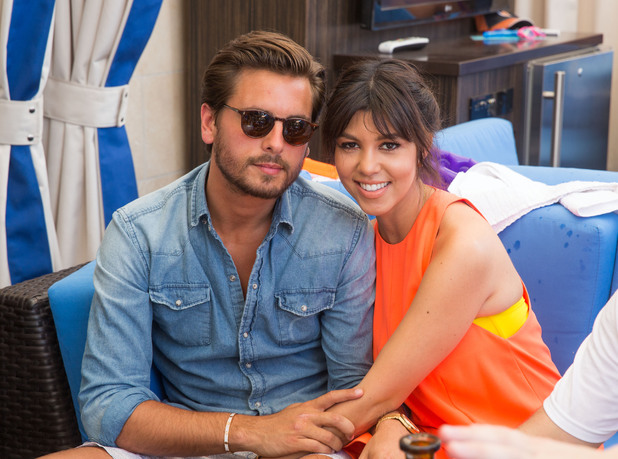 Dressed for the sunny weather, 34-year-old Kourtney looked pretty in a peachy orange dress, which she teamed with a yellow bra and a funky pair of colour co-ordinated sandals.
She kept her brunette tresses styled in her favourite up 'do, plaiting two sections into a chic bun at the back of her head, and accessorised with gold jewellery.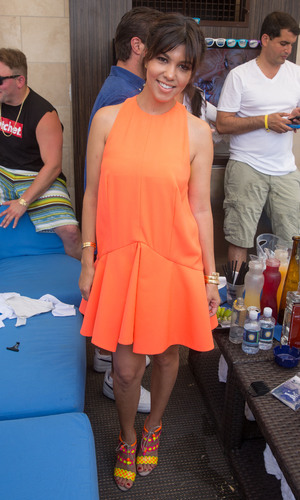 Meanwhile, Scott also embraced the sunshine but opted for a more casual ensemble than his longtime partner, with a pair of shorts, a light denim shirt and some eye-catching leopard print espadrilles.
The couple couldn't keep the smiles from their faces all day, as they soaked up the rays and hung out with their friends at the Sapphire Pool and Dayclub, where Scott was hosting a bash in celebration of the 4th of July.
At one point, the suave Lord Disick even got stuck into the party antics by shaving a fellow partygoer's hair off, as well as playing with a water pistol.
And of course fun-loving Kourtney was on hand to join in.
The mother-of-two is often seen looking after Mason and Penelope, so it's nice to see her letting her hair down with Scott once in a while.
In fact, Kourtney's sister Kim - who gave birth to her first child last month - has previously claimed that Kourtney no longer wants to let loose and party with her siblings now that she is a mother.
Well, it looks like she's proved Kim wrong here!
Nevertheless, Kourtney and Scott were back in mum and dad mode today (8 July) to celebrate their daughter Penelope's first birthday. And we can imagine she was be spoilt rotten by the entire Kardashian clan too!
What do you think of Kourtney's Vegas outfit? Let us know below!