Cheryl Cole has thanked Simon Cowell after he bought her a 'Lady' title for her 30th birthday, insisting that he addresses her as 'Lady Cheryl Cole' from now on.
Cheryl is currently celebrating her milestone birthday in the US with boyfriend
Tre Holloway and best friends Nicola Roberts and Kimberley Walsh, and she held a lavish party in Las Vegas
on Sunday (30 June) to mark it.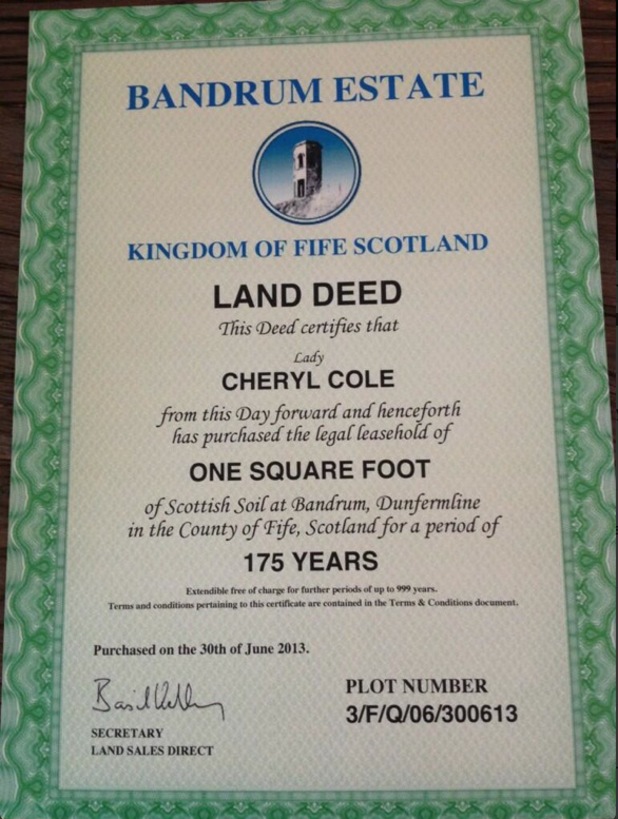 But although Simon didn't make the bash, he still made sure to send her a present in the post. The music mogul bought Cheryl one square foot of land on the Bandrum Estate in Fife, Scotland, and the deed came with a Lady title.
Sharing a picture of the official title deed on Twitter, Cheryl tweeted Simon saying: "Thank you for my lovely gift!! I will now be referred to as Lady
Cheryl Cole
when you address me both in person & through the media."
Earlier this week,
Simon was force to deny that he had snubbed Cheryl's birthday party
by releasing a statement on the social networking site.
"I didn't snub Cheryl's party. I just couldn't go because of my filming dates. We are close friends again and I adore her," he said. Cheryl has since responded, saying: "Don't worry, I know."
It seems that after a rocky period following
that
US X Factor
sacking fiasco, Cheryl and Simon are BFFs once again!
Made In Chelsea, Lucy Mecklenburgh and Avril Lavigne: top showbiz stories for 2 July in pictures
Copyright: WENN