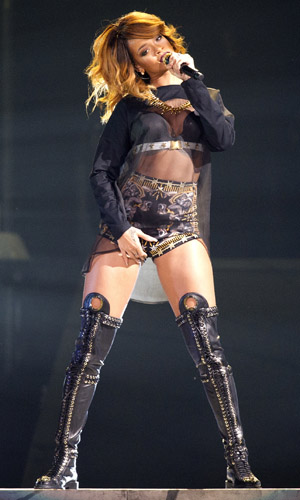 Rihanna has publicly slammed an opinion piece article which branded her as "pop's poisonous princess" and a "toxic role model" to young fans.
The 25-year-old pop songstress retaliated to the comments earlier today, saying that she never "campaigned" to be a role model in the first place, after the article was published in a national newspaper this week.
The article made particular reference to an Instagram photo that
Rihanna
posted during the week where she posed with two giant spliffs. It also commented on her turbulent relationship with ex-boyfriend Chris Brown, her pop star lifestyle and her body image.
The 'Diamonds' singer, who is is currently in the middle of the European leg of her tour, left a lengthy message on her Instagram account.
She said: "My money got a bad habit of p***ing people off!! What's all this about hair and nails and costumes and tattoos?? ....That s*** ain't clever!!!
"Nobody over here acts like they're perfect! I don't pretend that I'm like you, I just live... My life!! And I don't know why y'all still act so surprised by any of it!! 'Role Model' is not a position or title that I have ever campaigned for, so chill wit dat!"
She later added: "I got my own f***ed up shit to work on, I'll never portray that as perfect, but for right now it's ME!! Call it what ya want!! Toxic was cute, Poisonous Pop Princess had a nice ring to it, just a lil wordy!"