Kelly Rowland had admitted to having a bit of an unusual crush on Simon Cowell and has even said that she finds him sexy!
The Destiny's Child songstress was recently hired as a judge for the US version of
The X Factor
, following a successful stint on the UK show in 2011, and she will now be joining Simon as he finds the next singing sensation in the States, along with judges Demi Lovato and Paulina Rubio.
And it sounds like Kelly is enjoying her seat next to the music mogul already!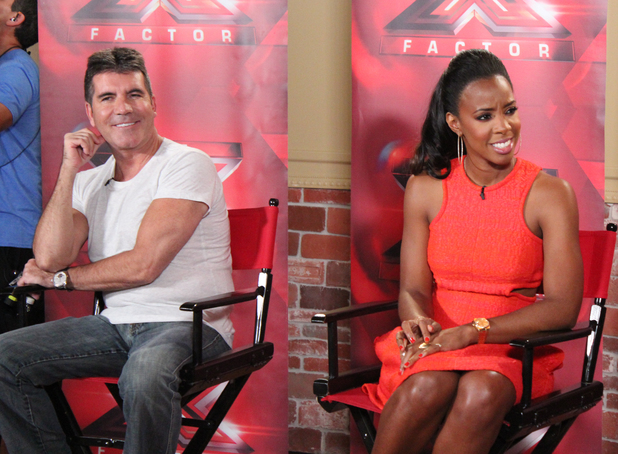 During an interview on
The Wendy Williams Show
this week, Kelly discovered that she and Wendy both had a thing for Simon.
Kelly, 32, said: "Simon is wonderful and I heard that we both have something in common, you think he's sexy? As do I! This is my first time saying it.
"I was a little [embarrassed to say that], but I've been waiting for someone to have that in common with me. Like, he walks in the room and he keeps doing this wink thing at you and you're like 'Boy, don't you do that!'
"I can't wait until you sit next to him and he starts winking at you."
Talk show host Wendy then added: "He's very attractive", to which Kelly responded "yes" in agreement.
While there, the 'Dirty Laundry' singer also cleared up the rumours surrounding her exit from the UK
X Factor
, assuring the audience that she hadn't been axed but had actually bowed out of filming another series at the time because she wanted to work on her
Talk A Good Game
album.
She explained: "Basically, I just wanted to get in the studio after I finished up the first
X Factor
and it wasn't the right time to do it. I just wanted to be back in the studio again, making music and that's exactly what I did, hence
Talk A Good Game
."
Kelly has been working hard to promote her latest musical offering and was
seen looking sizzling at an album signing
last week in a pair of red leather trousers.
Do you agree that Simon Cowell is a bit sexy? Let us know below!