Rihanna has told the world that she's one to beat when it comes to style after stepping out in a T-shirt featuring the slogan 'High Fashion'.
But in true
Rihanna
style, her white top with rainbow heart also appeared to feature a picture of a naughty leaf, meaning it controversially carries a double meaning.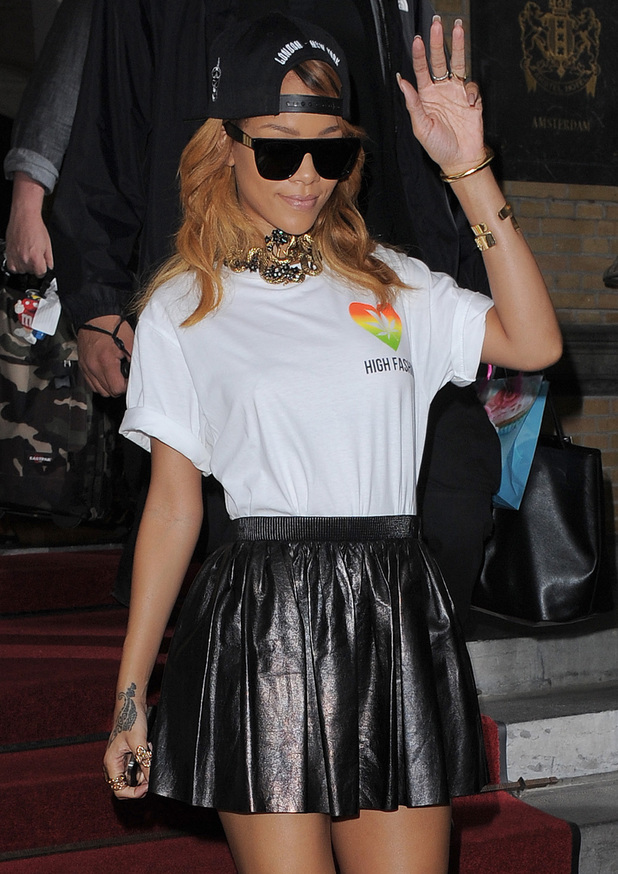 The Bajan beauty was pictured waving to fans last night (24 June) as she left her hotel in Amsterdam. She teamed her T-shirt with a black leather skater-style skirt and a back-to-front baseball cap.
Rihanna has been in the Dutch city as part of her 'Diamonds' world tour and it's fair to say she has raised a few eyebrows while there.
On Saturday,
Rihanna caused controversy after tweeting several pictures of herself with two giant rolled up cigarettes
hanging out of her mouth.
In Amsterdam, it is legal to sell small amounts of cannabis and, alongside her snaps, Rihanna wrote "legalise it".
Rihanna is now set to head to Germany, where she will take to the stage at the Lanxess Arena in Colonge tomorrow (26 June).