TOWIE's Sam Faiers took to Twitter last night (23 June) to rubbish claims that her heartfelt handwritten letter to ex-fiancé Joey Essex "didn't say anything nice" in it.
Before the ITV2 reality show aired last night, Sam said on the social networking site: "Apparently I 'didn't say anything nice' in the letter I wrote Joey... Well here it is... #anotherlie #shock."
Sam posted the letter that she first gave to Joey on last week's (19 June) show, for her one million plus Twitter followers to see, leaving fans speculating about who she was talking about.
Then, during last night's episode viewers saw Joey in a conversation with James 'Arg' Argent, where he said: "Nothing has changed from the start mate. She gave me some letter, it's quite a load of... basically it was a big lie."
Arg asked: "Was it emotional and stuff like that?" Joey replied: "No, it didn't say anything nice in it."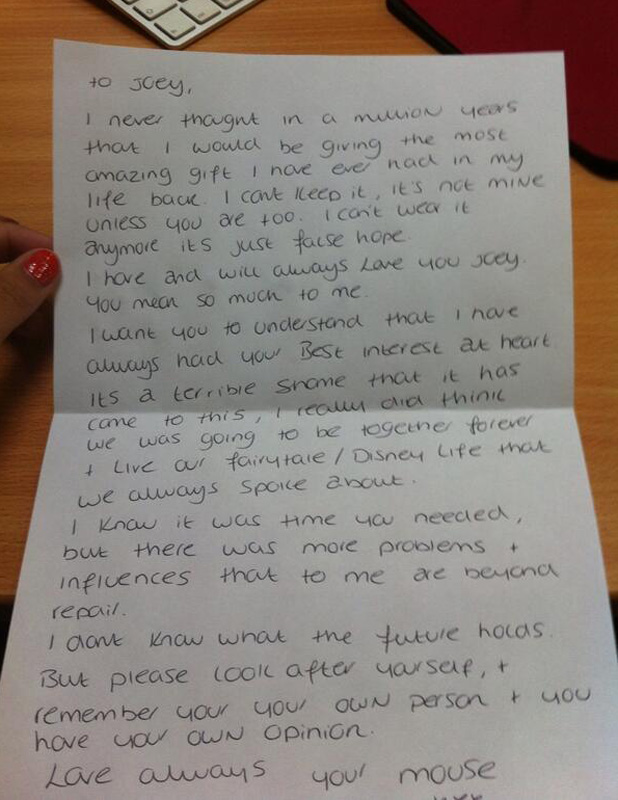 Arg continued to probe: "Nothing nice to you, like 'I'll always love you', or anything like that?"
Joey said: "No. it didn't say anything like that. So I just threw it away. I can't get back with her." Joey later added: "I've cried too many tears, I think it's about time that I man up. Just for the record Arg,
Joey Essex
is 100% single."
After the show had aired, Sam tweeted: "Nice to know you considered my feelings when I wrote that letter. I have admitted what I done wrong. You can't. Someone's true colours are coming out."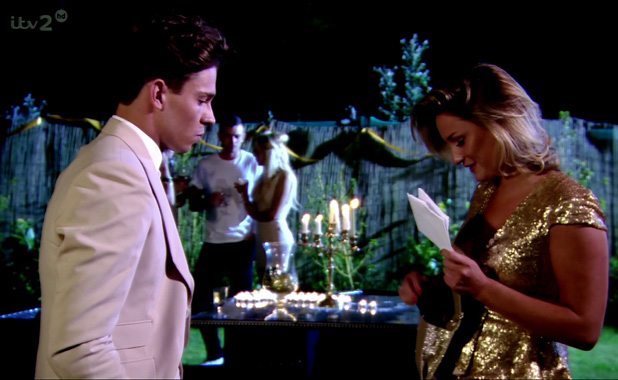 Joey did not respond to the tweets, but he did confirm his relationship status by tweeting: "#JoeyEssex100%Single," which Sam later retweeted on her own account.
The former couple,
hit a rocky patch while out in Marbella last month
after having a series of "massive blows and rows." They split, and once they returned to Essex, it looked like a reconciliation could have been on the cards as they agreed to meet up for dinner.
However,
Joey requesting more time apart didn't go down well with Sam
, and also conflict between Joey's cousin Chloe Sims and Sam's sister Billie Faiers escalated the issue.
Nice2know u considered my feelings when I wrote that letter.i have admitted what I done wrong.U can't.Someone's true colours r coming out

— sam faiers (@SamanthaFaiers) June 23, 2013
Eventually last week, they finally decided to call time on their relationship and Sam wrote Joey the letter as she prepared to hand over her engagement ring, which he told her to keep.
On last night's show, although they were both present at the summer solstice party, Sam and Joey did not speak to one another. Joey spoke about his frustrations at the situation, telling Arg and Tom Pearce: "It's annoying, we're always going to see each other out."