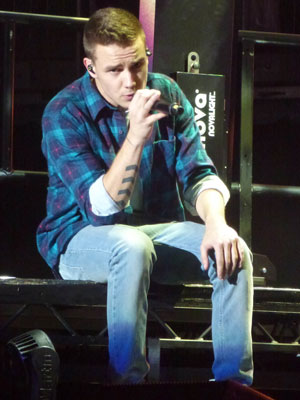 One Direction star Liam Payne seems to have had a pretty poor night's sleep after being tormented with phone calls at his hotel.
The 'What Makes You Beautiful' singer has been on a gruelling world tour with One Direction, and is currently in the US, but it appears his valuable sleep time was interrupted today by persistent calls to his room.
Liam eventually had enough and took to Twitter to air his annoyances, saying: "Whoever is ringing our rooms please stop it's not funny ur just pissing everyone off.
"Next time it's ur day off school nd u fancy a ly in il call u n see how u like it? (sic)"
He then added: "I'm sorry for being mad but I don't get to sleep all that often cuz we travel every day the one day I don't have to travel ..."
One follower, however, tweeted that she felt he was being a "brat", and quickly became embroiled in a back-and-forth with the star - until he told other followers to leave her alone.
"Hi everyone can u stop having a go at that girl cuz it's not nice despite what she said."
Other fans, however, supported Liam, with one tweeting that some people probably didn't realise how tiring touring and travelling can be.
Liam replied: "Thanks I appreciate people like you if u where here now I'd probably kiss you."
Needless to say, the fan was rather thrilled… and probably wishes she had been there!