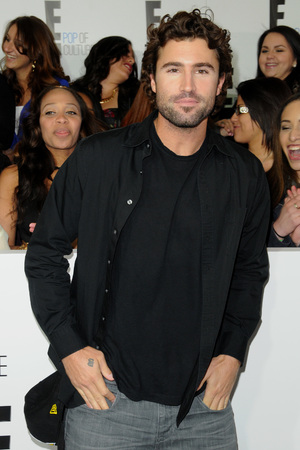 Brody Jenner has admitted that he doesn't want to know the name of step sister Kim Kardashian's new baby, as he cannot be trusted to keep it a secret.
The 29-year-old reality TV star has yet to visit Kim and his newborn niece and it sounds like he intends to stay away until the little girl's name is officially revealed because he doesn't want to risk spilling the beans first.
Speaking to Ryan Seacrest on his KIIS-FM radio show yesterday (20 June), Brody explained that he is giving Kim, Kanye and their new tot some space.
"It's so new, so I'm going to give her some time and then as soon as she's ready, I'll come see her," he said.
With rumours swirling that
baby Kimye's name is now 'North West' or 'Nori' for short
, fans are eager to know whether or not this moniker is the real deal, especially after many
other suggestions have been thrown into the mix this week, including 'Kaidence Donda'
.
But unfortunately Brody - whose father is Bruce Jenner - is not be able to put an end to the speculation.
He added: "You know, I don't [know the name]. I don't want to know! There's too much responsibility -- don't tell me!"
Kim, 32, gave birth to her first child with rapper beau Kanye West, 36, on Saturday (15 June) and has now apparently left hospital and is resting in a secret location while her new house with Kanye is being renovated.
The superstar couple and the giant Kardashian clan have remained tight lipped on the name of the baby girl since the weekend, with a source telling
Us Weekly
that they don't feel ready to announce what she is called just yet.
What do you think of the recent reports that the baby is called 'North West'? Let us know below!