Jedward took their outrageous personalities to the MuchMusic Video Awards this weekend, where they were spotted larking about on the red carpet and playing up to the cameras.
The former
X Factor
contestants are enjoying recognition across the world these days and it seems their fan base even stretches to Canada, where the fun loving twosome attended the annual award ceremony hosted by the MuchMusic video channel.
John and Edward, 21, were seen causing a stir on the red carpet in Toronto yesterday (16 June), as they jumped on the crowd and on each other, in a bid to give their fans a great red carpet show ahead of the awards.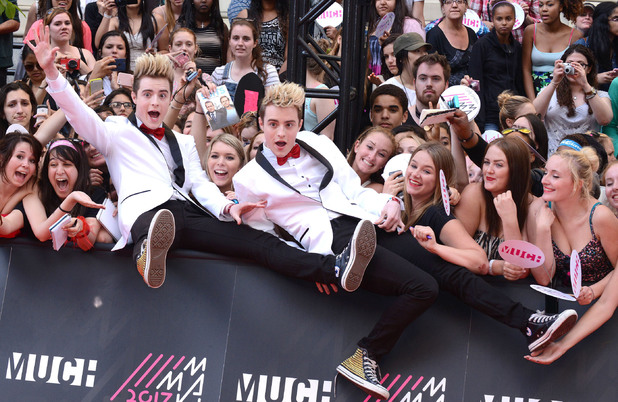 The twins posed for pictures while sat on the red carpet barriers, leaning on dozens of crowd members in the process, and also gave one another a piggy back before signing autographs and heading into the venue with the likes of Taylor Swift, Demi Lovato and Avril Lavigne.
In contrast to their larger than life characters however,
Jedward
kept their outfits fairly simple for the occasion.
They wore white tuxedo style jackets with black trousers, red bow ties and customised Converse trainers. And of course, the boys gelled their hair into their signature spiky style too.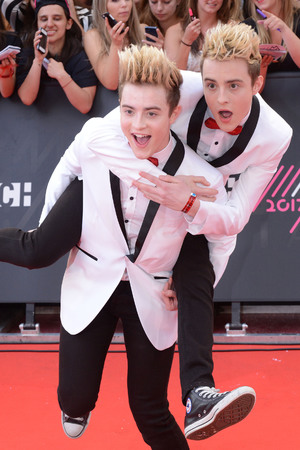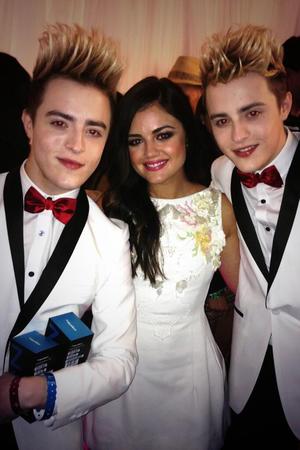 Before the awards ceremony the dynamic duo were invited to see Taylor Swift in concert by fellow British artist, Ed Sheeran, who is supporting the award-winning songstress on tour.
After watching Taylor and Ed rock the stage and perform a number of their hits, Jedward tweeted: "Thank you for inviting us @edsheeran means alot that we got to see and hear your songs live from Toronto Canada."
But Ed isn't the only celeb that Jedward have been rubbing shoulders with recently, as they also met up with
Pretty Little Liars
actress, Lucy Hale, at the MuchMusic awards evening and the trio seemed to hit it off straight away.
Following the ceremony, Lucy tweeted: "Also met these energy filled humans @planetjedward Good people."
"Energy filled" is certainly an accurate description!
What do you think of Jedward's red carpet style? Let us know below!