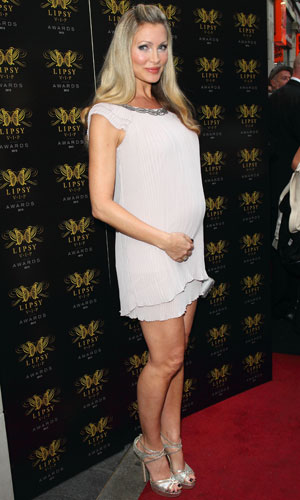 Pregnant Caprice has admitted that she is so close to the surrogate carrying her second baby that she plans to make her an aunt to the newborn.
The model, who is six months pregnant herself, excitedly revealed last week that she and her partner, Ty Comfort, are
expecting a second child with the aid of a surrogate mother
.
The couple's American surrogate was secured before
Caprice
fell pregnant naturally and she is expected to give birth just four weeks ahead of Caprice's due date!
Since the two women are going through their pregnancies at the same time and are even due within a month of one another, it's no surprise that they've become close and speak every day.
In fact, their growing bond means that the surrogate has now been welcomed into Caprice and Ty's family and she is keen to stay in touch once she gives birth to the couple's child.
Speaking to
The Sun
, Caprice explained the surrogate will act as a relative to her future sons.
She said: "She'll be known to the boys as Auntie..."
The lingerie entrepreneur also said that she plans to tell her children the truth about how they were conceived in different circumstances.
Caprice and Ty are currently sifting through baby names for their little ones and are said to be favouring a traditional English option.