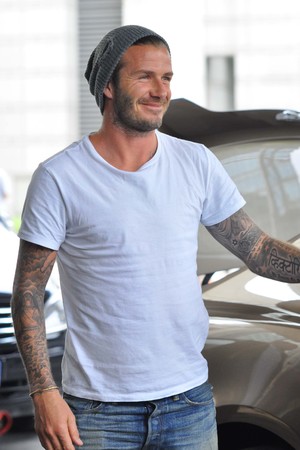 David Beckham may have retired from the beautiful game, but he's still keeping busy, as he landed in China today as the country's first global football ambassador.
The sports star arrived in China on Monday (17 June) for a week-long promotional trip, which will see him watch footy matches, attend training sessions and take part in charitable events in Shanghai, Nanjing, Hangzhou and Beijing.
His visit aims to help revive and improve the image of football in China, after the game was hit with match fixing scandals.
David, 38, looked his usual effortlessly cool self as he touched down in Beijing, sporting a laid-back look for his arrival, wearing a simple white T-shirt, light denim jeans and a grey beanie.
Beaming for the dozens of fans waiting to catch a glimpse of him, David also had his numerous tattoos proudly on show and didn't appear to be fatigued at all from his long plane journey. Well, the Beckhams are jet-setting experts!
The former England captain signed as an ambassador with the Chinese Football Association (CFA) in March and will also be helping to raise the profile of the Chinese Super League (CSL), following his
retirement from football in May
.
Despite still having a pretty packed schedule, David is also spending a lot more time with his family now that he's hung up his footy boots and Victoria will even be joining him in China this weekend, so that the superstar couple can attend one of the charity events arm-in-arm.
Are you sad that David will no longer be playing football? Let us know below!