Former reality TV stars, Amy Childs and Gabriella Ellis, have teamed up with pet social network Yummypets to settle the battle of dogs versus cats once and for all.
It's a question that always divides opinion and is often seen as saying a lot about your personality: do you prefer cats or dogs? Now, Amy and Gabriella are taking it upon themselves to represent cat and dog owners across the country and find out which side the UK animal-lovers fall on. And they're both passionate about their pets, as
Reveal
found out during an exclusive chat with the pair.
"I absolutely love dogs, I've always had dogs in my life," Amy said. "I've got three beautiful pugs, Prince Charles, Pucci and Pugsly, and I just love them, they're my life. They're so happy when they see me and I take them for walks all the time and I dress them up. I just love dogs. I am dogs all day long."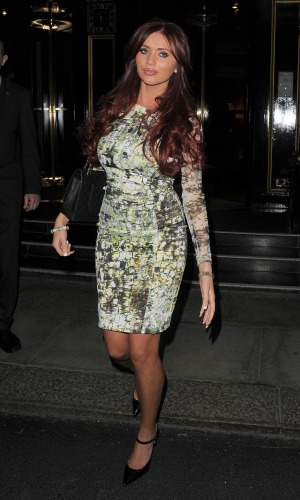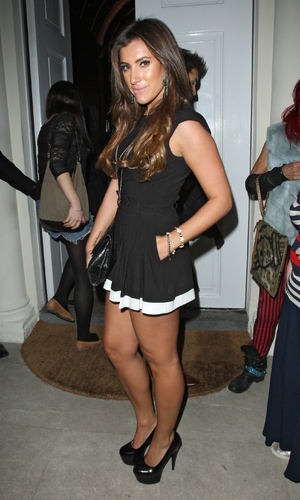 But Gabriella disagrees and is fighting the cats corner in the debate.
"I definitely think it's all about cats," she said. "I've got TC who is the top cat of the house and I've got Snowy, who is my little precious one. They're so independent and they're so chilled out.
"Basically, a cat is for a busy person that doesn't have time to give them all their attention. I am an independent person also and I like my space and my time and with a dog, sometimes I feel like they're a bit too full on for me. Cats are the way forward."
Amy's pampered pug, Prince Charles, is her right hand man and is often seen by her side - even at her salon in Essex. However, he's not always on his best behaviour.
She said: "Prince is everywhere with me, he was actually in the
Big Brother
chair as well. The famous
Big Brother
chair we were sitting on! But when he came out of the
Big Brother
house he was a bit of a diva, so we had to calm him down a bit.
"Prince doesn't really like the car, so I don't really take him to a lot of places. He had a photo shoot last week and he was so naughty. He was trying to bite the camera. The nicest place he's been is my salon because he loves getting pampered."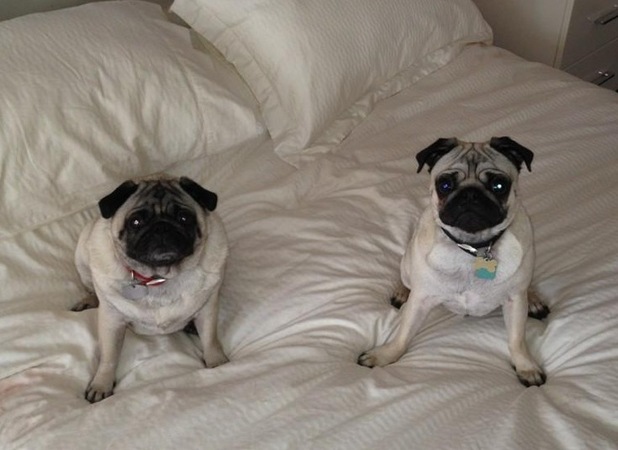 "I do try and put outfits on Prince, but he's having none of it," she continued. "I try and put beautiful leads on him and collars, but he doesn't like it. I've tried so hard to make him a glamorous pet, but he just doesn't want to be one.
"I don't really take him out anymore because he drives me mental!"
Gabriella added that she also knows what it's like to be around unruly animals, since her former
Made In Chelsea
co-star, Cheska Hull, has an attention-seeking pooch.
"Cheska's dog Evie literally tries to make a spectacle everywhere she goes," she said. "She'll be in prime position in the middle of the street and just do a massive poo!
"Ollie (Locke) will try to give me the lead when Evie does it. He'll be like 'Go on Gabs, you can have her.'"
Amy then cheekily admitted: "I've never actually had that! I just tell my dad to take him out and he'll pick up the poo."
As well as Cheska, it seems most of the
Made In Chelsea
gang are dog lovers, as opposed to cat owners like Gabriella, and cast members including Binky Felstead, Rosie Fortescue and Millie Mackintosh are all usually spotted cuddling up to their preened pooches on the show.
But Gabriella is adamant that cats are the better pet.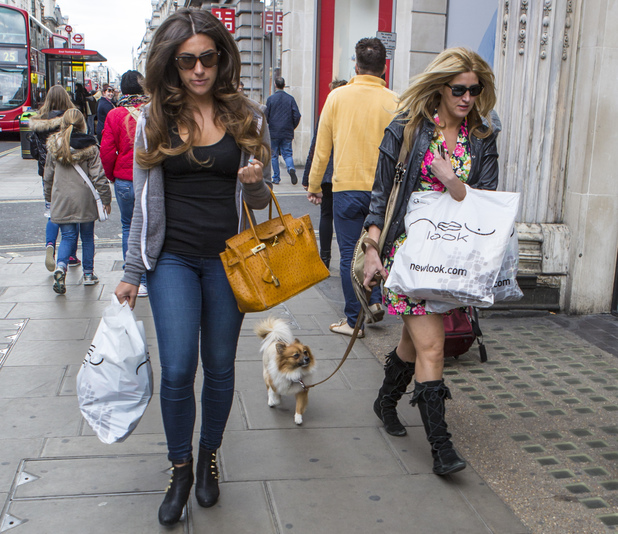 "Not many of the guys (on
Made In Chelsea
) have cats to be honest," she said. "I'm like the one and only cat lover I think, but I love my cats and they keep me company.
"I think my mum would die without Snowy, so they definitely keep her company too, which is nice."
So is Amy sometimes partial to a bit of feline action too, or is it dogs all the way?
"I'm quite scared of cats," Amy admitted. "I like kittens because they don't claw me, but cats are strange when they get older. They start staring at me, they start getting in my face and I just can't get cats really!"
Gabriella added: "I'm the same, I love puppies but I'm not a big fan of small dogs. I'd want a big dog in my face, like a Husky. Pugs are small dogs and they make that weird breathing noise. That scares me, I don't like it"
And Amy was quick to agree that her pugs do tend to breath rather heavily.
"I know, they've got breathing problems!" she exclaimed. "Once, Prince stopped breathing for about two minutes and I got worried, but he was only asleep!"
Since both Amy and Gabriella are now single, it sounds like their pets are proving to be a preferred alternative to having a man.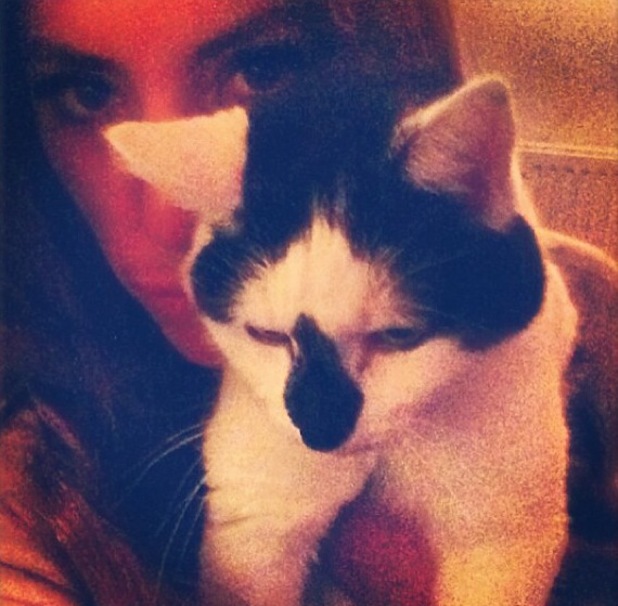 Earlier this month, Amy split from her boyfriend of one year, David Peters. However, she isn't nursing a broken heart on her lonesome, as she now has more time to spend with her favourite pug, Prince.
"We're better off with cats and dogs aren't we? This is what single life is all about: enjoying your cats and your dogs," Amy told
Reveal
.
Gabriella – who suffered a bad break up from boyfriend Ollie Locke in the first series of
Made In Chelsea
– echoed Amy's sentiments.
"I'm going to be a cat woman soon," she said. "I'll have about 20 cats and I'll be happy for the rest of my life."
In fact, Gabriella also admitted that her cats would always come before any man in her life.
"Hell yeah I'd choose my cats over my boyfriend! I'm sorry but Snowy comes before anyone else in the world. I think TC would beat up any of my boyfriends to be honest.
"Ollie used to literally hate Snowy for the first two weeks and then after a while, he broke and loved him a little bit more."
It sounds like any potential new suitors for the former Chelsea chick might want to make sure they're a fan of felines first!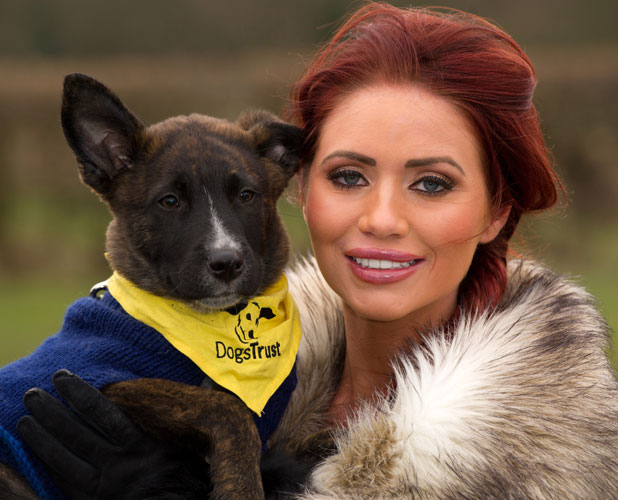 Although it's pretty clear which animals are Amy and Gabriella's favourites, we couldn't resist asking the ladies which other pets they would like to own, as well as their cats and dogs.
And the answers aren't your typical furry creatures!
While Gabriella admitted that she'd like to have a meerkat because they always "stand to attention", Amy said that she'd opt for a tortoise.
"It's such a random animal, she told
Reveal
. "They don't really do anything, but it could be quite fun. It would crawl, you could have a cuddle with it and then you're done. And they live until they're about 500 and I could vajazzle it if it let me!"
However, although Amy is the vajazzle queen, you wouldn't catch her covering her pet dogs in tiny coloured crystals – unlike one
TOWIE
fan that approached Amy last week.
Amy recounted: "I went the out the other day to a dog show and this lady came up to me and said 'Amy, I can't believe you're here but I've vajazzled my dog!'
"She lifted her dog up and it was all vajazzled! I don't know if that's a good or a bad thing. I'm not pushing vajazzling on dogs, I'm just pushing vajazzling on ladies!"
Amy and Gabriella have kicked off the YummyPets competition to find out if the UK loves dogs or cats more. Place your vote at www.yummypets.com/catsordogs
Are you a dog or a cat lover? Let us know below, as the best comment from across the website each week wins £50!
Do you prefer cats or dogs?
I agree with Amy - I'm a dog person!
52.94%
I agree with Gabriella - I'm a cat person!
35.29%